Ryan Bourdreaux is working as a contractor at the National Computer Center in North Carolina's Research Triangle Park, but his future is in limbo as he waits to find out whether his contract, along with those of 300 co-workers, will be renewed next month. However Bourdeaux doesn't seem too worried: He believes the area's tech job market offers opportunities in his areas of expertise, which includes Web design, Cold Fusion and Web development.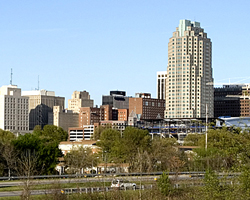 "I'm still getting headhunters contacting via e-mails," says Bourdreaux, who moved to North Carolina in 2006 from New Orleans to escape the Katrina disaster. "The phone calls aren't coming as often, but I still get them at least once a month. And most of the people I know who are leaving where I work are going to other IT positions."
Indeed, job postings for the area on Dice show hints of promise. In January, they showed a 31 percent year-over-year increase, with 519 jobs available compared to 397 in January 2009. And that's happening in a wider job environment that is, let's say, less-than-great. The U.S. Bureau of Labor Statistics says North Carolina's 2009 unemployment rate stood at 10.4 percent.
Gary Henning, district director for Robert Half Technology's Southeast area, says he's "cautiously optimistic" about the market in Raleigh. Some of the firm's clients are coming back to talk about projects that had been put on hold. "A lot of them are putting a toe in the water, maybe with a contractor or contractor-to-hire," says Henning. "It's a new business year and we also are working with companies we never worked with before."
Some of the job orders Henning has seen include.NET expertise, SQL Server, Java, PHP and help desk. He's also noticed clients talking about Windows 7 implementations that may happen down the road. Verticals showing signs of life are "all over the board," he adds. They include education, health care, and financials connected with mortgages. "How fast it is going to take to get back to the way it was two years ago? I still don't know," says Henning. "But if you're asking if it's better than a year ago, yes it is."
Deb Hill, managing director for Manpower Professional's Raleigh office, also sees a pick up in demand, though she says companies remain skittish about committing on a long-term basis. Job orders are coming in for software developers, software engineers and help desk in verticals such as healthcare and financial services. "We certainly see more demand for consultants compared to full-time," notes Hill. "Most of the positions are contract."
Meanwhile, Richard Newns, managing director at Technisource in Raleigh, saw his orders begin to pick up during the last quarter of 2009. He's seeing demand for software developers, expertise in Web 2.0 and developers for social networking applications, as well as for project managers and business analysts. Although last quarter demand for those jobs was flat, in the last two months he estimates an increase in demand of between 20 and 25 percent for those jobs. "We are optimistic for 2010," says Newns. "Candidates who we hadn't had anything happen in the last nine months are now getting several offers."