by Don Willmott
Did you get your
iPhone 4
last week? I sure didn't. If you're as experienced a gadget geek as I am, you know it's never wise to buy the first release of anything. I prefer to wait for other people to suffer through the bugs before I get involved. In fact, the old joke about
Microsoft
software is that you should always wait for the third version, and it's true!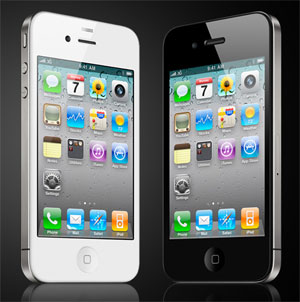 Nevertheless, IT will have no choice but to take a close look at the iPhone 4 and its accompanying iOS 4 operating system.
As we've noted previously
,
Apple
continues to try to make the case for the iPhone as a useful business tool on par with the ubiquitous BlackBerry, but enterprises have been slow to sign on. It could be that the lack of a keyboard just won't cut it for e-mail-centric BlackBerry users, or it could be that IT tends to regard the iPhone as an entertainment device full of fun parlor tricks but lacking the kinds of enterprise apps, bulletproof security, and communications tools that businesses require. On launch day,
Steve Jobs
said that the new phone would provide better data protection, wireless application distribution, support for multiple Exchange e-mail accounts, and SSL VPN security. This kind of attention to the needs of large organizations is crucial if Apple has any hope at all of moving millions of units into the enterprise arena. IT will hear about these features and likely get interested pretty quickly. So does the arrival of the iPhone 4 and
iOS 4
change the equation for IT? The early punditry seems to say yes. One of my favorite analysts,
EarthWeb's Mike Elgan
, makes the case that the iPhone's
improved speakerphone
alone makes the device a better business tool. I agree. It's a rather mundane point in the grand scheme of things, but day to day it's the kind of thing that really matters. Elgan notes other little details: support for full-size Bluetooth keyboards, syncing of notes from the Notes app to various e-mail accounts, easy videoconferencing so the traveling businessperson can see the kids, tethering to turn the iPhone into a Net connection for your laptop ($20/month), a better battery, and a sleeker design (so it doesn¿t bulge in your pocket when you dress up for a meeting). But what about software? Somewhere amid the couple of hundred thousand iPhone apps (no one ever seems to know the exact number) are many useful business apps... if you can find them. The App Store can be a bit unwieldy. Small businesspeople are sure to find vertical apps that may prove useful, even if they only cover one or two aspects of the business. What's more important to the IT crowd is that now even the biggest enterprise software providers are involved. When I'm researching trends in enterprise software, I often ask, "What is
Salesforce.com
doing?" As this huge vendor goes, so goes the industry. As it turns out,
Salesforce.com is into the iPhone
, providing its CRM tools in a format customized for the device while also delivering versions for Windows Mobile and BlackBerry. That's an important endorsement of the iPhone as a business tool, and
SAP
, another huge enterprise vendor, is
on board as well
. My advice to Apple: keep up the good work... and hurry. My advice to IT: pay close attention. Until now, my take on the iPhone has been that it is a remarkable lifestyle enhancer that has transformed my daily life. Just yesterday I returned from a fun 400-mile road trip that was made better in a dozen different ways simply by having my iPhone in my hand. And yet I have never considered latching on to the iPhone as a useful tool for my business needs. This feels like the moment where I start to rethink that position.