[caption id="attachment_10917" align="aligncenter" width="618"]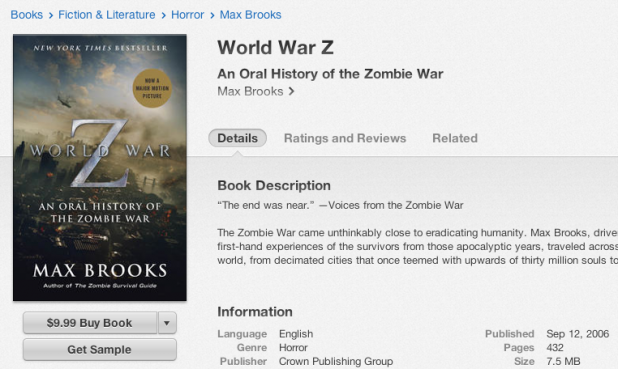 Apple's online bookstore is battling Amazon for a bigger piece of the e-books market.[/caption] Apple conspired with major publishers to fix the price of e-books,
a federal judge has ruled
. "The Plaintiffs have shown that Apple conspired to raise the retail price of e-books and that they are entitled to injunctive relief," U.S. District Court Judge Denise Cote
wrote in a lengthy decision
. "A trial on damages will soon follow." Apple, she concluded, "is liable here for facilitating and encouraging the Publisher Defendants' collective, illegal restraint of trade." That conspiracy "forced Amazon (and other resellers) to relinquish retail pricing authority and then they raised retail e-book prices." Those higher prices weren't the result of regular market forces "but of a scheme in which Apple was a full participant." The U.S. Justice Department had previously settled with five publishers (HarperCollins Publishers LLC, Simon & Schuster, Hachette Book Group, Penguin Group, and Macmillan) over the alleged price-fixing. Earlier this year, Macmillan CEO John Sargent claimed in
a letter to authors and agents
that his company settled with the agency "because the potential penalties became too high to risk even the possibility of an unfavorable outcome." Apple is locked in fierce battle with Amazon, which markets a highly successful portfolio of Kindle e-readers and tablets. Although Apple co-founder Steve Jobs once insisted in
emails to News Corp executive James Murdoch
(son of Rupert Murdoch), that Amazon's pricing model is ultimately unsustainable, the online retailer shows no signs of flagging in its publishing-industry clout. Meanwhile the Kindle's other major e-reader rival, Barnes & Noble's Nook, faces low market-share and rising financial losses, and its days could be numbered. If Apple chooses to appeal the decision, it may argue that judge Cote was biased against the company from the very beginning.
During a May pretrial hearing
, Cote reportedly told the courtroom: "I believe that the government will be able to show at trial direct evidence that Apple knowingly participated in and facilitated a conspiracy to raise prices of e-books." The circumstantial evidence presented by the government, she added, "will confirm that." At the time, Apple's legal counsel was perturbed over those comments. "We strongly disagree with the court's preliminary statements about the case today," Apple lawyer Orin Snyder wrote in a statement. Even if Apple ends up forced to pay significant penalties, it's unlikely to leave the e-books market anytime soon. According to recent data from the
Pew Internet & American Life Project
, the number of Americans reading e-books has increased from 16 percent to 23 percent over the past year, even as readership of printed books has declined from 72 percent to 67 percent. That's enough financial incentive to keep Apple battling Amazon long into the future.
Image: Apple