We're pleased to present our first edition of Dice's Careers in Technology, a guide to IT careers for college students and new graduates embarking on their first job hunt. The book is designed to offer real insights into the world of technology and the jobs you can pursue, while providing the knowledge you need to stand out.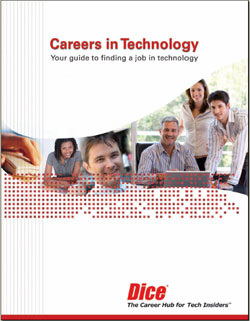 Careers in Technology is designed to be used in conjunction with Dice. It provides basic information about important trends in IT, as well as background information on different career paths and the skills you'll need to be successful.
It includes:
Job Profiles

reflects the range of positions and skill sets needed for 13 different areas.

How to Get a Job

provides tips in dealing with recruiters and agencies whether you¿re looking for a full-time job or contract position

Managing Your Career

explores strategies and tactics to help you proceed through your profession.

Contracting

offers insight on what has become a growing employment segment as many companies bring on professionals for short-term project implementations.

Resources

outlines the lingo of IT, and points to a number of online resources that should be helpful whatever specialty you pursue.
Plus, there's a special section on careers in Green IT.
We're distributing the book at college campuses around the country. If you like, you can download its pdf here (it's free).
We hope you like it.
-- Mark Feffer