At this stage of the game, it's surprising that some people still need to be told that oversharing on a social network can hurt their job hunt. CIO.com reviews the dos and don'ts of social networking for professionals, noting straight away that 45 percent of hiring managers use social networking sites to screen job seekers, and that number has doubled in the past year.
Another shocking stat: 35 percent of hiring managers have immediately screened out candidates based on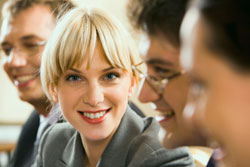 what they found on candidates' social networking profiles.CIO.com's top seven hints for using social networking to your advantage rather than to your detriment:
Make sure your social networking profiles are complete and rich with search-engine friendly keywords
Use your profile communicate your career status
Post recommendations from current and former managers, staff, clients, and colleagues
Personalize the URLs for your social networking sites. Facebook lets users create URLs for their profile pages that include their names
Join online groups in your area of expertise
Be courteous. When someone wants to connect with or "follow" you, reciprocate.
Use proper grammar and correct spelling in your profiles.
And, it bears repeating, leave out anything that hints at strongly held political positions or that reveals the fact that you really know how to party. Potential employers do not need to see photos of your lost weekend on a Lake Havasu houseboat with eight of your drinking buddies.
--Don Willmott