By Don Willmott
As the calendar flips over to the new year, those of us who pay close attention to the IT job market seek out - and have no trouble finding - a seemingly endless stream of surveys, reports, and predictions that tell us the tech-employment picture is getting better - or worse or both - all at the same time. Why is there never one single correct answer?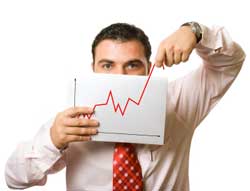 As always with statistics, everything depends on who is asking the questions, why they want to know, and what kind of answers they're hoping to see. As 2009 wound down, for example, one job board - not Dice - surveyed 2,700 hiring managers and HR reps and found "an uptick," claiming that 20 percent of employers across all industries planned to add full-time, permanent employees in 2010, up from 14 percent in 2009. Great, except that "61 percent of employers said they do not plan to change staffing levels." Oh. And, "employers are waiting to see what the economy does and what the new year brings." Well, in that case, we'll check in again later. But wait! "One-third of employers plan to add technology jobs." That's better than the average for all job fields, so maybe IT is the place to be after all.
Perhaps more useful than the kind of sweeping macroeconomic reports that come from big surveys or from the Bureau of Labor Statistics or TechAmerica's annual Cyberstates reports (which lag reality by several months) are predictions that focus on job titles in the IT space. For example, at the end of the year recruiter Robert Half Technology said it had found three IT job titles where overall pay is steady or rising, a definite anomaly in these recessionary times: network administrator, information systems security manager, and systems engineer.
At the same time, Money magazine did a ten-year job growth forecast and found the winning IT jobs to be systems engineer, project manager, security consultant, and software developer. Over at Computerworld, however, the "six hottest skills for 2010" are programming/application development, tech support, networking, project management, security, and business intelligence. It looks to me like the way to succeed in the coming years is to become some sort of a "security project manager."
Funny, though. The same Computerworld survey found less than 20 percent of the 312 IT executives it polled plan to increase IT head count in the next 12 months, compared with 26 percent in the previous year. "And nearly 20 percent said they plan to decrease their IT head count." But didn't I just tell you four paragraphs ago that one-third of employers plan to add technology jobs." Oh, well. Who really knows, right?
That's the point. It's interesting, but not necessarily critical, to scan these kinds of surveys with the hope of seeing definitively into the future. It's also not particularly helpful in the short term to learn that security is hot if it's a topic you know nothing about it.
That's why after reading all these surveys, my advice is simple: Mind your own business - literally. Embrace your specialty, get better at it, Twitter about it (maybe), network in person and online, and get ahead of your competition. At the same time, do pay attention to the sweeping trends in hot IT job categories. Maybe you don't know anything about security or virtualization or cloud computing, but what if you start learning about it now with an eye toward steering toward it next year? That sounds like a sensible New Year's resolution to me.