Recruiters in Detroit and the surrounding area are starting to feel a bit of optimism.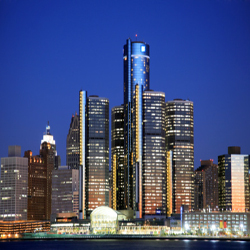 Lara Dodo
, regional vice president for
Robert Half Technology's
Detroit office, reports the staffing firm has seen growth in the number of job requirements it's received from clients for IT professionals both in Detroit and across Michigan. An RHT survey found that 80 percent of CIO respondents "feel confident for growth in Q2." Overall, recruiters report demand for program managers, Web developers, networking specialists, and high level infrastructure workers. There's also need for security experts and application developers in the .NET and Java space, as well as SaaS developers.
Daryl Thomson
, managing director of eastern Michigan for
Manpower Professional
, says many clients are focusing on mobile applications for automotive companies and healthcare. "We are seeing slow but steady growth in job requirements and hiring," says Thomson. "And so far, May is showing the exact same thing." Other recruiters echo Thomson's and Dodo's words: "I can report that the IT market is the strongest I've seen in some time," says
Joy Goberville
, managing director for the eastern region for staffing firm
Technisource
. "Companies are hiring contract-to-hire as well as fulltime in a variety of technology positions." And here's the kicker. "The candidates I speak with are getting multiple offers. And I'm speaking with companies who are concerned about retention," says Goberville. "On the company side, I think it's because of pent-up demand on projects. But also they're focused on diversifying their business and seeking additional customer commitments." This wasn't the situation a year ago. But the long, slow way back appears to have begun, according to the
Detroit Free Press.
Michigan's unemployment rate moved slightly lower, to 14 percent, in April - just a 0.10 percent improvement from March. But it was the latest in several recent months when the rate either declined slightly or held steady.
Dana Johnson
, senior economist for
Comerica
, told the
Free Press
that recent improvements in vehicle sales portend a slowly improving labor outlook for Michigan's workers.
Dice job postings also showed improvement, with 534 positions listed in April - a 4.9 percent month-over-month gain, and 28 percent year-over-year increase. Even more heartening for IT professionals, says Dodo: Their industry's unemployment rate is lower that the state's average. According to the
Bureau of Labor and Statistics
, database administrators have a 1.6 percent unemployment rate, while network and system administrators have a 4.8 percent rate. "General unemployment in all industries is at a high level compared to the technology space," Dodo observes --
Sonia R. Lelii