[caption id="attachment_5611" align="aligncenter" width="571"]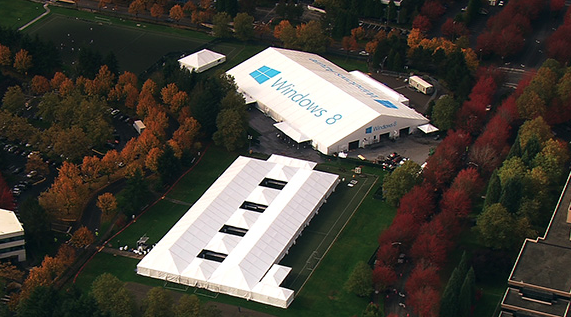 Microsoft is hosting BUILD in a giant tent.[/caption] Microsoft has spent Day 2 of its BUILD developer conference highlighting the company's continued push into the cloud, including new features for Windows Azure, its cloud-infrastructure platform with Platform-as-a-Service offerings. Those features include a
preview of the Windows Azure Store
, which allows IT pros to purchase and download services for cloud applications. Offerings include MongoLab, ClearDB and other Database-as-a-Service platforms; management tools such as AppDynamics and New Relic; and data-centric apps such as Bing Search, IP Check and Microsoft Translator. Considering rival IT vendors' focus on giving their clients an app storefront, Microsoft had little choice but to introduce something like the Windows Azure Store. Salesforce has Force.com, its social and mobile application-development platform; SAP recently unveiled HANA Cloud, which includes SAP HANA AppServices for creating applications via a mix of HANA in-memory database technology, Java, and other services; and over the summer,
IBM began offering developers more tools
for building and deploying apps in the cloud. Microsoft also announced a Windows Azure Mobile Services extension with support for Windows Phone 8 and Windows 8, key to the company's continued efforts to push a new, multi-device Windows ecosystem. "Windows Azure is the backend engine that makes it possible to provide push notifications (USA Today headlines, money and tech) on a single framework that supports multiple formats," Satya Nadella, president of Microsoft's Server & Tools Business, wrote in
an Oct. 31 blog posting
timed to the Build conference, "while allowing the apps to be distributed broadly through the Windows Store." Outside of Azure, Microsoft is spending BUILD promoting development for Windows 8, the next version of Windows and its great hope for wresting a bit of the mobile market away from Google and Apple. A big part of Microsoft's plans center on convincing third-party developers that Windows 8's apps storefront is an ideal place for their software wares; but whether developers take them up on that offer in Apple App Store-style droves remains to be seen. Certainly Windows 8 has the potential to sell hundreds of millions of copies over a long period of time, if it follows the sales pattern of previous releases—the bigger question is whether the operating system can make inroads into tablets against the iPad and the multitude of Google Android devices.
Image: Microsoft