Health care still show sparks of life for IT job hunters.
May 2009

---

At a time when news about the economy and employment seems relentlessly bad nationwide, the Twin Cities of Minneapolis and St. Paul have a couple of things going for them.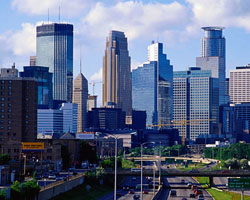 Most important is the diverse service-based local economy and its well known friendliness toward business. For the second year in a row, Minneapolis-St. Paul is "where it's at," according to MarketWatch's list of best metro areas for business, released in December. It handily beat out its closest competitor, Boston, in the survey because "the concentration of companies has stayed strong, and job growth continues while unemployment remains relatively low." MarketWatch points out the Twin Cities area has 13 public and private firms with sales of more than $10 billion, but is also friendly to small business owners. Boosters are quick to note the Twin Cities ranks second in both the concentration of Fortune 1000 and S&P 500 companies (32 and 15, respectively) and they represent a healthy blend of industries.
As for unemployment, it's marginally better than the national average, measuring 8.2 percent statewide in March, ahead of the national rate of 8.5 percent. The sectors with the biggest job losses were in manufacturing and construction, not the services areas where IT is usually counted. In fact, Minnesota has added 16,200 jobs in education and health care, and 2,100 positions in government. Still, according to Paul Taylor, executive director of the Minnesota IT Workforce Collaborative, 3,500 new unemployment claims from workers in the IT sector from October through March tell a painful tale.
"Clearly, a critical priority is jumpstarting an economic recovery with stimulus spending that will make investments in our technology infrastructure" says Rob Tabb, vice president and CIO of St. Paul-based Ecolab, and chair of the Minnesota High Tech Association board of directors. However, the timing is yet to be determined. "This is all still playing out," says Taylor. "There will be money for job development and retraining, but it's still too early to see what initiatives can be approved and undertaken soon to help IT workers find themselves to be square pegs in round holes today."
In the most recent TechAmerica Cyberstates report, released in March, Minnesota was deemed the 17th largest cyberstate, employing 128,500 tech workers with an average wage of $75,200, 68 percent more than he state's average private sector wage. Note, however, that in Dice's 2009 Salary Survey, Minneapolis does not show up in top 20 cities, perhaps because so many other cities have higher costs of living and commensurate salaries.
Statewide, computer systems design and electromedical equipment manufacturing jobs have grown the most. The state has seen its largest tech job losses in computer and peripheral equipment manufacturing and communications services. Minnesota ranks second nationally for electromedical equipment manufacturing, sixth for computer and peripheral equipment manufacturing, and seventh for electronic components manufacturing. "The Twin Cities is a center of high tech in the nation," says Wendell Maddox, president and chief executive of ION Corporation, headquartered in Minnetonka, and chair of the Minnesota High Tech Association board of directors.
At Dice, the number of available job listings for Minneapolis has actually held fairly steady since they first dropped off when the current financial crisis began. Today, there are about 1,000 available listings, just as there have been since December. According to Robert Half Technology's IT Hiring Index for the current quarter, the north central region, which includes Minneapolis, is seeing help desk, technical support, and networking as areas experiencing growth. Desktop support is the technical skill most in demand, overtaking network administration, which led as the top skill for the past two quarters. When CIOs who are reducing staff were asked why, "reduced IT budgets" was the most-cited factor.
An April survey of the top 100 public companies in the state conducted by the Minneapolis Star Tribune found that 61 percent said they plan to keep staffing levels "about the same'' in the next 12 months, although 43 percent said they plan to cut capital spending. The newspaper itself recently listed just five local IT job offerings in its employment ads.
"Health care is the one industry that seems to be faring best," says Taylor. Perhaps that report mirrors the current economy as a whole: Strength in healthcare but weakness in retail and banking. Local company Target has cut 600 jobs since November, while 3M has cut more than 2,000. The company's CEO, George Buckley, recently told investors 2009 " will turn out to be somewhat more challenging than we had originally expected."
That's likely to be true not only in the Twin Cities, but everywhere else as well.