While last year produced a higher number of employment options, this year's focus has shifted to quality.
October 2008

---
Although Atlanta's big local employers have few positions posted, recruiters remain optimistic about job-market conditions there, especially for development spots.
Of course, February was a long time ago - especially in this economy - but back then Forbes wrote Atlanta "is a job magnet that epitomizes the economic boom of the Southeast. Companies with headquarters there include Coca-Cola, CNN and UPS. Atlanta's population has doubled in the last 20 years; by 2012, it's expected to grow another 11 percent. Personal income for Atlanta residents is forecast to grow by 6.3 percent annually during that time, according to Global Insight."
It's a dynamic description that makes Atlanta's future seem a promising. But the present is a bit less bubbly, especially in IT.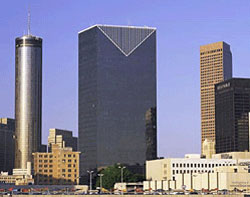 On Dice, the number of Atlanta IT jobs has dropped from about 3,000 in January to just more than 2,500 in September. A recent spin through the career pages of some top employers yielded virtually nothing of interest for IT experts with significant experience. No tech jobs were listed at SunTrust Bank or Delta Airlines, and AT&T/BellSouth listed only four intern-level IT jobs at its Atlanta headquarters. As for Coca-Cola, the news broke in early October that the corporate giant will make an unspecified number of job cuts in its 1,100-member IT department by the end of the year. "This is a natural and ongoing discipline for high-performing companies as part of their long-term planning," spokesperson Dana Bolden told The Atlanta Journal-Constitution. "As this process moves forward, we expect that IT work will be reassigned within the company, resulting in a minimal reduction in staff over several years."

IT recruiter Robert Half Technology is equally pessimistic. In its most recent quarterly survey of CIO hiring plans, the firm found only 9 percent of Atlanta-area CIOs intend to hire in the fourth quarter, the lowest number of any of the 30 metro areas Robert Half Technology tracks.
Still, AeA's annual Cybercities report points out Atlanta is better positioned in technology than many other cities. The high-tech industry there employed 126,700 people in 2006 (the most current data available), a 2 percent rise from the previous year. Atlanta is ranked 10th nationwide for IT employment, and the jobs are well paid, with the average tech industry worker earning $82,400 in 2006 - 77 percent more than the average private sector wage of $46,500.
Telecom has always been big in Atlanta (those original Hayes modems were invented there). Software
publishing and engineering are also top categories for technology employment. Still, overall employment in the city is anemic now. In a September employment survey of 100 metro areas by Bizjournals, Atlanta ranked number 21, with only 0.5 percent private-sector job growth over the past year. (contrasted with 2.6 percent in Raleigh, N.C.) The current unemployment rate is 5.9 percent, the third worst rate among the top 25 ranked cities.
What do recruiters say? "While last year produced a higher number of employment opportunities, this year's focus has shifted to quality, not quantity," according to Jeremy Joiner, sales manager for high-tech recruiter Sapphire Technologies' Atlanta office. Who is needed most? "Developers, developers, developers," Joiner responds. "Java and Microsoft developers are in high demand in the Atlanta market." However, he adds, experience counts: Employers want the strongest resumes and aren't offering slots to junior-level developers.
Meanwhile, jobs in telecom seem to be holding their own. "Atlanta has always had a large telecom presence, and there has not been a shortage of jobs from our telecom clients," says Haley Thurston, Recruiting Manager for Sapphire Technologies' Atlanta Office.
Statewide, Georgia ranks fifth in the percentage of gross state product derived from the IT sector, according to the Technology Association of Georgia. The vast majority of that business happens in Atlanta. The Tech Association lists five sectors outpacing the national growth averages:
Pharmaceutical/Medical Manufacturing
Medical Devices and Supplies Manufacturing
Architectural and Engineering Services
Computer Systems Design
Scientific Research and Development Services
"Other technology sectors have a stronger concentration in Georgia versus the national average, including ISP and Web search portals, wireless telecommunications carriers, telecommunications resellers, wired telecommunications carriers, software publishers, audio and video equipment manufacturing, and computer systems design," says the association. It points out that 80 percent of venture capital funding in the state supports technology-related businesses, and universities such as the Georgia Institute of Technology, Emory University, and the University of Georgia are hubs of technology innovation that spin out new businesses.