How do we hang onto IT jobs in a post-recession world? That's the question asked by
ITBusinessEdge's Ann All
, who
writes
"two million IT jobs in North America and Europe, part of a larger group of 3.6 million general and administrative positions, will be eliminated between 2000 and 2014." That's a tough number to contemplate.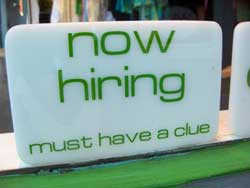 Experts All interviewed suggest this isn't just an issue of outsourcing. We may complain a lot about that, but the real story is productivity. Jobs aren't being moved as much as they're being eliminated in bulk at lower and general levels, and being replaced by highly targeted experts with very specific management skills. Here's what may be the quote of year, from
Senad Hadzic
, CIO of
KaMin LLC
, which All found in a Forbes interview. Asked about hiring, he said:
What I'm looking for are people familiar with the business process. I'm hiring business analysts who can take IT to the higher level. The old way of looking at IT is gathering requirements, buying the equipment and turning it on. There's a big assumption there that people know what they want. In today's world everything changes so fast it's hard to pinpoint what people need. I'm looking for people who can take us to the next technological level. They have very profound business/leadership and project management. The technical skills are secondary. I can buy those off the shelf.
Bottom line: You don't want to be someone who is simply picked off the shelf - and then put back on the shelf.
-- Don Willmott