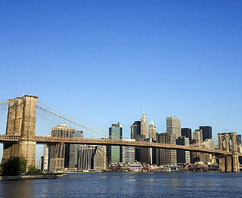 More New Hot Spots for City:
Up to 32 parks around the city will get WiFi hot spots as a result of a cable television franchise renewal agreement that was approved by the City's Franchise and Concession Review Committee. Time Warner Cable and Cablevision must make a $10 million investment in WiFi infrastructure for the parks across all five boroughs. (They have yet to be chosen.) The WiFi will be rolled out over the next two years and paid for by the cable companies through 2020. It will be free for three monthly sessions of 10 minutes each. After that, users will pay 99 cents a day, though broadband cable customers will get to continue using it for free.
Crain's New York
CDO Tackles Digital Bureaucracy:
Rachel Sterne, the city's first chief digital officer, has already overhauled much of the City Hall's communication with social media, kicked off NYC's Digital Road Map, and organized the city's first hackathon. Her goal: to make government more effective and transparent through technology. Now she's again turning her attention to social media, launching SMART, the Social Media Advisory and Research Taskforce. The group will consult with agencies that want to take a dive into social media. They're listing best practices and holding crash courses and workshops for communication managers.
Fast Company
Benefit System Launched -- Late and Overpriced:
It's six years late and $277 million over budget, but a computerized system to track city workers' benefits is finally operational. The New York City Automated Personnel System replaces the paper records of more than 330,000 workers, and should save money over time. Although its launch has been troubled, it's gone better than the disastrous CityTime payroll system that was dogged by corruption and huge cost overruns.
The New York Post
New Jersey Welcomes Tech Startups:
New Jersey wants to start an "accelerator" program to mentor tech entrepreneurs as they start up businesses. The New Jersey Economic Development Authority is seeking proposals and ideas on how to create the program, which will receive $450,000 over three years and should "demonstrate an ability to leverage private investment dollars" to public dollars at a minimum of 3-1, the EDA says. Officials cite TechStars, which has centers in New York City, Boulder, Boston and Seattle; Y Combinator in Mountain View, and Dreamit Ventures in Bryn Mawr, Pa., as examples worthy of emulating.
NorthJersey.com
Apple's Construction Work at Grand Central:
Temporary scaffolding is up on the balcony of Grand Central's main concourse just one month after Apple won approval to build a 23,000-square-foot store. The project will take about four months to complete and should be open in time for holiday shopping. Yet to be discussed is how Apple will manage crowds on product launch days, when long lines could pose a threat to the well-worn paths of daily commuters.
Apple Insider