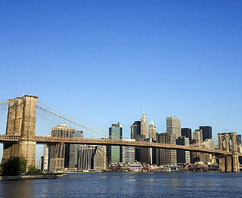 Foursquare has 500,000 Merchant Accounts:
Foursquare says it surpassed 500,000 merchant accounts just two weeks after the company reached 10 million active users. The location-based social networking site allows GPS-enabled mobile users to "check-in" at different locations and has proved popular with both users and merchants, especially in New York. Last week the company introduced its notifications feature to Android first, despite its history with Apple's iPhones.
Digital Media Wire
Foursquare Chases Partners:
Although Foursquare has a $600 million valuation, it doesn't have much of a revenue story yet. That may change as the service goes after a series of agreements to remarket daily coupon deals from LivingSocial, Gilt Groupe and AT&T to its users. Groupon may also be in the mix.
The Wall Street Journal
Google Gets into the New York Coupon Biz:
Following the launch of the Google Offers beta in Portland last month, Google's brought its online coupon service to New York. Here, it's going to compete with LivingSocial, Groupon and a number of copycat services. Subscribers who sign up will receive e-mails with local offers. First up: Belgian fries, chocolate cake and red velvet cupcakes.
Google
TechStars NY Picks Exciting Local Startups:
TechStars NY announced its second class of startups, which is slightly larger than the first, more experienced, and features a higher percentage of Silicon Alley companies. Twelve companies are in the new class and all but three were founded in New York City. TechStars NY also added a number of new mentors including Partick Keane, Laural Touby, Mark Suster and Andy Weissman.
BetaBeat
How To Hire Tech Rock Stars:
At the Founders@Fail Meetup, speakers discussed the best ways to find and hire "the absolute, top-to-bottom, complete and total rock stars." Said one recruiter, "We try to hire people with founder-type personalities for as long as we possibly can... We look for the type of people that are going to come into work each day and are really going to put in time – it's not a clock-in and clock-out situation."
NY Convergence
What Will Silicon Alley 2.0 Look Like?
New York City's high-tech industry has grown rapidly in recent years, but the city will have to make some changes if it is to become the next Silicon Valley, as Mayor Bloomberg hopes. In May, the mayor announced a $22 million investment in tech-oriented startups, and the city's home to Gilt Groupe, Etsy, Foursquare, Meetup and Tumblr. New York surpassed Boston for the first time in the amount of money spent on new ventures, with approximately $2 billion in VC investments. Still, Silicon Valley saw $9 billion in investments.
The Epoch Times
Office Vacancies Are Way Down:
Vacancies in office buildings in U.S. central business districts dropped to their lowest level in two years as companies added space for workers being hired. Cushman & Wakefield says the average vacancy rate fell to 13.9 percent in the second quarter, from 14.6 percent in the previous three months and 14.8 percent a year earlier. In Manhattan, the Midtown and Midtown South sub-markets maintained the lowest vacancy rates and highest average rents in the 30 central business districts the company surveyed. Midtown South's vacancy rate fell to 7.1 percent from 8 percent in the first quarter.
Bloomberg