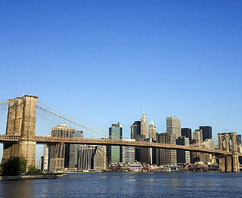 Bringing Manufacturing Jobs Back:
Tens of thousands of New Yorkers have lost manufacturing jobs since 2005, but Sen. Kirsten Gillibrand wants to turn that around with a new program called Make It in America. She's promoting a slate of initiatives to breathe new life into New York's industrial hubs by promoting and strengthening the clean-tech and high-tech fields using tools including federal grants for retraining workers, retooling factories and hiring tech experts; tax credits for makers of clean-energy technology, and extending an existing tax credit program to lure private investors. Such programs could be especially valuable in the Bronx, Brooklyn and Queens, where most of the New York's manufacturing jobs have traditionally been located.
New York Daily News
Tech Firms Are Eating Up Office Space:
Silicon Alley in Midtown South has become the preferred location for high-tech and new media firms on the entire East Coast. Most recently, AOL's Huffington Post signed one of the largest deals of the first quarter, a sublease of 50,0000 square feet at 675 Avenue of the Americas. Google, Yahoo and Twitter are already here. By 2014, observers expect Manhattan to see employment levels equal those of 2001's peak, and office space to be at a premium.
Business Insider
NYC Blog Mogul Calacanis Likes to Make Offers:
Jason Calacanis, former publisher of the well-remembered
Silicon Alley Reporter
, is nothing if not impetuous. Eager to continue launching blogs for his content network, he fires off job offers with amazing alacrity and then waits to see what will happen. "It's win-win. If they take it, I win. If they don't take it, I win because it's
baller
," he says. (And yet, he adds, blogging is "largely dead.")
New York Observer
Leaders NYC Tech Grows Because of Its Creativity:
Money and technology are important of course, but many of the city's entrepreneurs believe that it's the talent in fields like media and music that make the city an exceptional place to build a business. "It's not about algorithms. It's about soul," said Nora Abousteit, co-founder of
BurdaStyle
, at a recent forum. All agreed that New York is infinitely better at creating culture than Silicon Valley, and VC leader Fred Wilson praised the city's new entrepreneurial spirit. "That's a relatively new phenomenon," he said. "The … thing is a dense environment where there's a lot of diversity creates a lot of creativity."
Portfolio.com
Hackers Hurt Citigroup:
New York-based Citigroup said about 3,400 customers lost about $2.7 million when their credit-card information was breached by hackers earlier this year. According to the company, the customers affected will be reimbursed. This is the first public acknowledgement that the high-profile incident resulted in any financial losses. The numbers are big: 360,000 credit-card accounts, or 1.5 percent of the bank's total in North America, may have been compromised by hackers in May.
BusinessWeek
This Alley Winner Has Been Around a While:
Low-profile but high-powered. That's
LivePerson
, which posted $110 million in revenue last year. The company enables consumers to initiate online conversations with its clients' customer-service reps to ask questions, get advice, find the solution to a problem or order products and services. The company, which has been around since 1998, faces competitors and technological challenges, but is expected to rack up more than $130 million in sales in 2011, and is expanding: It plans to hire 100 people this year for offices in New York, Atlanta and San Francisco. Currently, it employs 500people.
Crain's