In today's app-tastic world, Apple, Google, and now even Microsoft continue to pound the drums, inviting developers to create apps and seek their fortunes in the companies' respective app stores, where millions of apps fly off the virtual shelves every day.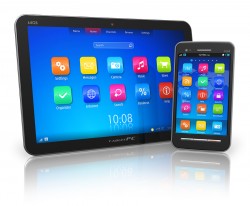 Chris Jones, a Canalys VP and principal analyst, noted that most of the game companies had multiple titles generating revenue. Zynga had 15 in Apple's list of top 300 grossing iPhone apps and nine in the Google Play store.
Zombie Apps
So what about everyone else? Are they all invisible? "Discoverability is a particular issue in the Apple App Store and in Google Play, given the huge inventories they boast," said Tim Shepherd, a Canalys senior analyst. "Developers of other kinds of apps need to consider how to promote them." In other words, no matter how great your needle is, it's probably lost in the haystack right now. As a matter of fact, Berlin-based mobile analytics and ad verification firm Adeven found in July that almost two-thirds of the offerings in Apple's App Store are never downloaded at all. Yikes. So what can app developers do to make a splash — and make some money? James Low, CTO of Hong Kong-based Onoko International, a social media and app development company that has racked up tens of millions of installs of its 10 apps, has some advice. Onoko uses multiple business models to squeeze revenue out of its products, including purchase fees, display advertising and relevant referral programs to stores like Amazon. Here's what he suggests:
Try a free/premium model.
"I think it helps companies generate sales when people can try the app first and decide later if they're willing to pay to remove ads or get more features."
Consider enabling in-app purchases.
"This is why game companies are the most successful in the app stores and on platforms like Facebook. In-app purchases seem to generate the most revenue per user, and the game companies have found ways to make people not realize how much they're spending. That gives the game companies enough cash to buy advertising, and it's a virtuous cycle. If you look at a lot of the display ads on mobile platforms, they're for games."
Add social features to make the app spread.
"For small developers without funds to spend on advertising, adding some social features to your apps can help you grow. If the nature of your app means that people want to share content with their friends, it can help you spread the app without having to pay to advertise it."
Make something you'd really want to use and that doesn't have too many competitors.
"The success we've had has come from creating apps that we really want to use ourselves and creating apps that we know don't exist yet or have no more than one potential competitor in the store already. That's getting harder, of course, because the market is definitely getting saturated, but it's still your best chance of success."
Related Links
Image:
Tablet PC and touchscreen smartphone
[Bigstock]