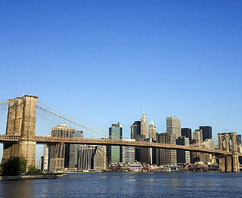 Tumblr Blogs Its Way to an $800 Million Valuation:
Popular New York-based blogging service Tumblr is likely to raise $75 - $100 million in venture capital, which will value the company at $800 million, people familiar with the matter said. Although the service has little revenue to show for itself, VCs don't seem to mind. In December, Tumblr said it had raised $30 million from Sequoia Capital, Spark Capital and Union Square Ventures in an investment that valued the company at $120 million. "Questions around monetization still exist," said one observer. "But the company has absolute scale, massive traction and huge growth and money-making potential." Interestingly, about 20% of the company's 27 million blogs are related to fashion.
The Wall Street Journal
Amazon Rolls Out NYC Coupon Deals:
Do we need another daily deal site? Amazon.com says yes and has launched a Groupon-like Daily Deal service in Manhattan and Brooklyn. Mike George, vice president of AmazonLocal, said, "This is a very logical, natural extension of what we do now: helping our 144 million active customers buy anything they want." Maybe so, but for the first time, Amazon will be sending customers to experiences it cannot directly control. We'll be watching the results.
The New York Times
Brooklyn's EnergyHub Gets $14.5 Million in Funding:
Brooklyn's EnergyHub, which makes software and systems for home energy management, said it raised $14.5 million in a funding round that included Acadia Woods, .406 Ventures, the New York City Investment Fund and Physic Ventures.The company previously raised $3 million in March 2010 and $7.2 million last December. It will use the new funding to expand the distribution of Home Base, its energy-management system. The company is also working on Mercury, cloud-based software that lets homeowners program wireless thermostats, provided by the company, to automate their heat and air conditioning.
Xconomy
Union Square Is the New Silicon Alley:
Union Square was already emerging as the city's top destination for tech companies, but this year's arrival of Apple and Yelp has upped the ante. Those companies plus a dozen more have taken a combined 135,000 square feet of office space in the neighborhood. Yelp will add 40 employees to its 50-member office when it sets up in its new digs on Fifth Avenue. "I can hardly walk through Union Square and not see people I know and see other tech entrepreneurs just hanging out or having lunch," said Matt Meeker, organizer at Dogpatch Labs NYC, a co-working space that recently moved from 12
th
Street to 17
th
Street. It offers workspaces and mentorship programs for new companies.
The Wall Street Journal
State Cancels $27 Million Tech Contract with Murdoch Firm:
The scandal surrounding News Corp.'s alleged phone hacking has cost another one of Rupert Murdoch's companies $27 million. The State of New York cancelled a contract with Wireless Generation, a News Corp. affiliate that was on board to develop student test score tracking software as part of the state's "Race to the Top" program. "In light of the significant ongoing investigations and continuing revelations with respect to News Corp., we are returning the contract with Wireless Generation unapproved," said state controller Thomas DiNapoli's office.
The New York Daily News