[caption id="attachment_12552" align="aligncenter" width="500"]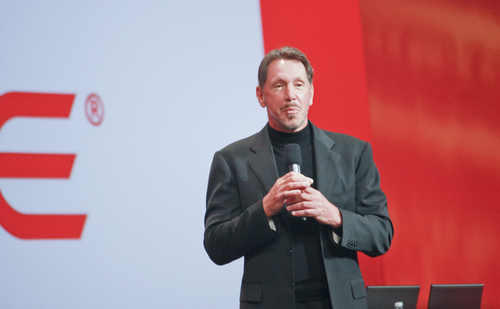 What, Ellison pick a fight with SAP? Never![/caption] Oracle has its sights on SAP's in-memory business. Oracle CEO Larry Ellison began this year's OpenWorld conference in San Francisco by unveiling a new in-memory technology option for the Oracle 12c database. Oracle's version of in-memory stores data in both row and columnar format, which (at least in theory) speeds up both transactions and analytics—in a Sept. 22 speech, Ellison claimed Oracle 12c with an active in-memory option could process queries 100 times faster than similar platforms on the market. Ellison also emphasized the new option's ease of use. "You say how much memory you want to use in the computer, tell me what partitions or tables to be in memory, and drop your analytic indexes," he told the audience,
according to PCWorld
. Oracle executives took to the stage to demonstrate how in-memory technology could reduce query time from several minutes to less than a second, even if the query in question was substantial (three billion rows with no indexes,
as detailed by The Register
.) Oracle also claims that Oracle 12c's in-memory option isn't a RAM hog, doesn't require data migration, and can be used with data-analytics applications without the latter needing to be rewritten. Ellison also used OpenWorld to debut the
M6-32 "Big Memory Machine,"
a multimillion-dollar monster that features 32TB of RAM along with the new Sparc M6 processor (with 12 cores). While Oracle is positioning the hardware as an ideal solution for companies with tons of data to crunch, the oversized box also emphasizes the tech giant's ongoing reliance on hardware sales to fuel its bottom line, even as many of its clients continue to migrate to the cloud for their data-storage and analytics needs; it remains to be seen whether platforms such as the M6-32 can turn around Oracle's anemic hardware performance of the past few quarters. Oracle archrival SAP has spent the past several months pushing HANA, its own in-memory database technology. An increasing number of SAP products rely on HANA to speed up processes. That hasn't been ignored by other tech giants in the enterprise space, such as IBM and Microsoft, many of which are pursuing their own version of in-memory technology. Oracle is clearly jumping on that bandwagon, although it remains to be seen whether the in-memory technology built into the Oracle 12c database can attain the performance levels that Ellison claimed during his speech.
Image: drserg/Shutterstock.com