[caption id="attachment_5442" align="aligncenter" width="500"]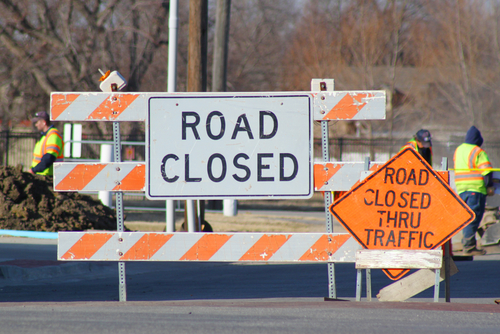 Whether in the data center or on an actual street, roadblocks aren't fun for anyone.[/caption] IT departments today have no choice when it comes to the ability to rapidly restore critical applications in the event of an outage: they simply
must
be able to do it. The escalating growth of mission-critical data, combined with increasing data center virtualization and zero tolerance for downtime, means that if a system goes down, IT must bring it back online with lightning speed or risk a negative impact to the business. In today's world, customers and employees alike expect critical services to be accessible
any
time,
all
the time, so downtime, even for a short while, can equate to serious loss of revenue. A recent Quest Software
survey
polled a cross-section of IT professionals in North America about their data protection priorities, and results showed that organizations large and small now rank restoring critical applications alongside recovering lost data as their top data protection concern. This represents a major change from traditional data protection concerns, where the focus was simply on creating one reliable backup of the company's data within a given window, with little regard for recovery time. Despite the increased sense of urgency, however, many IT departments still struggle to meet the aggressive recovery time and recovery point objectives (RTOs and RPOs) associated with their critical applications. Numerous roadblocks exist on the path to achieving rapid application recovery, but there are three that particularly affect RTO, or the time it takes to return the availability of data to end users, and RPO, the point in time to which data will be recovered, which for minimal data loss of mission-critical applications needs to be less than 5-minute intervals. Below are the three key roadblocks to rapid application recovery, along with suggestions for how to get past them:
The modern distributed IT infrastructure is fluid
. The distributed computing model most organizations use today disperses resources into a mix of physical, virtual, and cloud environments, which means that application assets don't necessarily reside in the same place in the underlying IT infrastructure. Some may be on a physical server, some on a VM, and some off-premise. While it's vital that admins be able to restore entire lost services fast, it takes a search of multiple backups, in multiple locations, to collect all the necessary components to truly restore an application in this complex environment. A data protection solution that provides the capability to organize, schedule, view, and manage backups based on lines of business (such as Oracle financials), rather than servers, will move IT past this roadblock, and avoid the need to search multiple backups and locations for all of the components required for an application restore. With such a solution, admins can group all relevant assets for a given application – servers, virtual machines and databases – into an application group for which they can set and manage recovery SLAs.
Many mission-critical applications are now virtualized.
As virtualization increasingly becomes the norm in most of today's data centers, many organizations are virtualizing their mission-critical applications. This has many benefits for IT, but the problem is that many traditional backup solutions only enable image-level backups, so, to recover a single lost item, the entire VM on which the application is running must be restored. A VM backup solution that's truly application-aware and contains a searchable catalog will clear this hurdle and provide the capability to search for specific items, and conduct granular restores. To meet aggressive application recovery objectives, the product must first ensure that an "application consistent" backup image is captured. Secondly, it is critical for IT to have the capability to recover even a single Microsoft Exchange mailbox, or a single attachment, without having to restore the entire VM.
Most backup and recovery strategies require a two-step restore
. Traditional backup and recovery methods provide a flat, one-dimensional view of data protection that supports just one IT admin role and focuses on infrastructure, rather than services. Also, many legacy backup solutions lack the more sophisticated restore capabilities required for complex applications. As a result, they often require a time-consuming two-step, two-person process for restoring critical applications. In most cases, the backup admin can only restore the image of the data. The application administrator then needs to reconfigure the underlying application. A solution that provides role-based access will provide application administrators direct visibility into the recoverability of the specific IT services they are responsible for managing, and enable them to leverage specialized data protection tools to perform granular backup and recovery tasks. This will bypass the laborious, two-step recovery roadblock that makes restoring applications so challenging with traditional backup strategies. Failure to meet RTOs and RPOs for restoring critical applications can topple any backup and recovery plan. The key to preventing further upheaval in the event of an outage is having the capability to overcome the common roadblocks to rapid application recovery. The right data protection solutions will give IT a leg up on meeting the aggressive RTOs and RPOs necessary for today's mission critical applications fast, thus enabling businesses to minimize downtime and reduce the risk of lost revenue.
John Maxwell is vice president of data protection product management for Quest Software (now part of Dell). His team is responsible for defining and developing backup and recovery solutions that span physical, virtual, application and cloud environments.
Image: val lawless/Shutterstock.com