[caption id="attachment_13849" align="aligncenter" width="618"]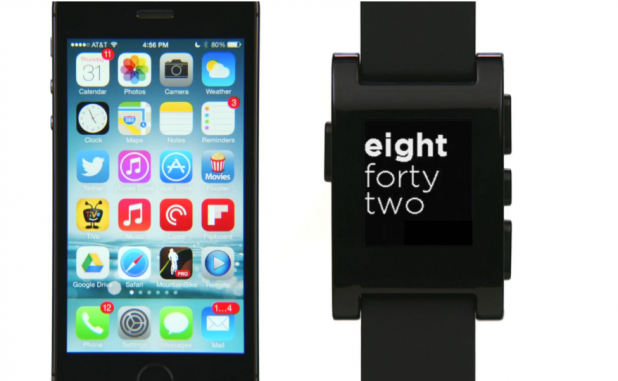 Pebble smartwatch with Apple iOS 7 integration.[/caption] If you pay attention to tech scuttlebutt, the Era of the Smartwatch is right around the corner, with every IT giant from Apple to Google hard at work on a high-tech something you can strap to your wrist.
Pebble
was the first high-profile "smartwatch" to market, following a masterful Kickstarter campaign in which it
raised nearly $5 million
. It's managed to sell 190,000 units—not exactly iPhone numbers, but pretty good in an era where many high-profile gadgets simply fail at launch. But now it faces the enormous challenge of staying relevant when rival devices from some enormous companies begin arriving on store-shelves. Part of staying relevant means software updates, which is why Pebble is now integrated with iOS 7, meaning that any messages that filter through Notification Center on an iOS 7 device will appear on the Pebble's screen. The bigger news, however, is Pebble's new SDK 2.0, with Javascript, Accelerometer, Data Logging, and Presistent Storage APIs. Developers can use those APIs to build a variety of apps, including ones that access the Web or keep logging data even when the Pebble watch is out of contact with a tethering smartphone. Yelp, iControl, Foursquare and GoPro are apparently working on apps using the new SDK. Pebble claims that some 10,000 developers are already building on its platform, and that more than 50 companion apps are available for download via the iTunes and Google Play stores. But is that enough momentum to survive the next few years? Samsung's
Galaxy Gear
didn't gain a whole lot of critical praise upon release (although it ended up as an
"Oprah Favorite"
) and doesn't seem poised to upend the nascent smartwatch industry, but Google and Apple reportedly have projects in the works. According to
The Wall Street Journal
, which drew its information from the always-popular anonymous sources "familiar with the matter," Google is in the later stages of development on a timepiece that runs Android. Rumors have also circulated that Apple is
hard at work on an "iWatch"
; Earlier in 2013,
The Verge
(also citing anonymous sources) suggested that the company had "chosen to rework the full iOS to run on the watch instead of building up the iPod nano's proprietary touch operating system," but failed to detail any possible features. If either of those projects should come to fruition, it could spell trouble for Pebble, which would only have a fraction of those corporations' development and marketing budgets. That aside, scrappy startups also have a way of not only surviving, but sometimes growing against all odds to dominate a particular market segment. Pebble has as good a chance as any firm at pulling that off.
Image: Pebble