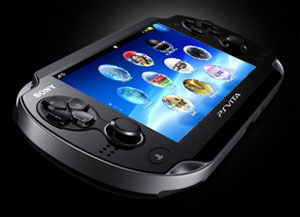 Sony's upcoming Playstation Vita's been on the receiving end of a few wrenches lately that are making many wonder just how popular the system will be with gamers. The primary wrench comes from the growing popularity of games for smartphones and tablets like
Angry Birds
. They've cut into the market for specialized handheld systems.
Angry Birds
has been downloaded more than 200 million times, making it one of the fastest growing brands in video game history. And users don't have to spend a couple hundred dollars to buy a specialized gaming system to play it. (Plus, it only costs $1.99, or $2.99 for the new
Angry Birds Rio
). The other wrench comes from rival devices like the Nintendo 3DS. After six months on the market, Nintendo dropped the price of its new 3DS from $249 to as low as $169. The Vita, by comparison, is set to debut with a price tag between $249 and $299. Sony is under increasing pressure to cut that price. "Smartphones are the new battlefield for the gaming industry,"
says Masamitsu Ohki
, a fund manager at Tokyo-based Stats Investment Management. "Nintendo should try to either buy its way into this platform or develop something totally new." "Gamers are increasingly anticipating Sony to lower prices, especially after the 3DS cut,"
adds Hideki Yasuda
, a Tokyo-based analyst at Ace Securities. "Sony is under major pressure to cut the price of the Vita or risk a major failure." Yet Sony remains steadfast that it will not engage in a price war with Nintendo. "We have a very good product at a very affordable price," contends Kazuo Hirai, president of Sony's Consumer and Products Services group. "There's no need to lower the price just because somebody else that happens to be in the video game industry decided they were going to." Still, Sony is delaying shipments of the Vita until after the holiday season, the crucial sales period where the most number of video game consoles are sold. Sony didn't call the timing a delay, but rather a necessary hold since the company wants to be have solid game offerings in conjunction with the launch. The Vita will have functions similar to a smartphone's, with a touch interface and motion-sensitive features. Yet the question remains if consumers will want to shell out a couple hundred dollars for the device, along with another $30 or $40 for each game, when they can choose from thousands of dollar games for their iPhones.