Smart TVs are expensive and quickly become outmoded, so choosing a dumb HDTV and Internet-connected set top box is a budget-wise alternative. Set top boxes get smaller every year but will, I believe, be replaced with even smaller devices that are more closely related to the USB flash drive than a cable or satellite box. We're already seeing evidence of this in the marketplace.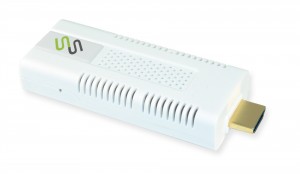 Recently, I had the opportunity to test one of these shrinking TV devices. Favi Entertainment invited me to review its newish (
released last year
) SmartStick and keyboard controller. The
Favi SmartStick
is a $49.99 Android-based alternative to buying a smart TV or set top box. It promises to deliver streaming media online and from devices connected to your own network with ease. Small at just 3.6 x 1.3 x 0.6 inches and just .08 pounds in weight, the SmartStick offers full access to the Google Play Store, quick setup, a full Web browser, 1GB of RAM and access to your previously purchased Google Play Store media.
Inside the Box
When you open up the box, you'll find:
Favi SmartStick
Remote
HDMI adapter
USB power cable with wall plug
IR Remote Receiver
The SmartStick keyboard controller is sold separately for $39.99. Before digging in, I read the outside of the box and quick start guide since this is what every consumer should do with new tech. I was surprised to find the SmartStick required a separate IR remote receiver, which has to be stuck to the front of the TV to properly pick up the remote control's signal. Connecting to a TV with HDMI was quick and painless. I was up and running in less than 15 minutes. After booting up, my first stop was the Apps section to download Netflix. Here, you have two ways to add apps: The Google Play Store and Favi's own curated apps. Favi's collection was quite small, so I stuck with Google. The compatible Netflix app was tablet-optimized and not suitable for the included remote. Although it performed better with SmartStick's Keyboard Controller, the experience still wasn't great. Moving left and right was difficult while moving up and down was easy. Using an actual tablet to swipe through lists of movies and TV shows is intuitive where the SmartStick Keyboard controller is not. Its tiny touch pad is too small to move titles very far on screen, so navigating my Netflix queue was frustrating. The aspect ratio for apps didn't seem to be affected by changes made with the setup wizard. Apps often expanded outside the viewing area I had defined during setup. As an
Amazon
Prime member, I expected to find a version of the Amazon Instant Video app available for download, but a quick search from the device didn't find it – the Android app is only for tablets. Since the SmartStick identifies itself as being a phone-type device, apps targeting other devices aren't available. Further investigation revealed the Amazon Instant video app is only available for Google TV, not other Androids.
Family Friendly?
When I started out, I envisioned a productivity tool for families. The handy home screen would contain chores lists, a calendar and shopping lists perfect for a busy household. The addition of streaming media would sprinkle in a bit of fun. Considering its use of Android 4.0, the SmartStick UI wasn't quite as user-friendly as I expected. Favi's added its own skin over the standard Android interface, though the Android settings menu was left untouched. The home screen appears to be a slight modification of the default Android version, but it's far less flexible. Instructions provided with the device make no attempt to show the user how to move about from screen to screen or change home screen icons and widgets. Thus, the SmartStick doesn't lend itself to becoming the perfect home information system. I was surprised to find no default security measures enabled when the device powers on. There are no built-in parental controls either. This is a glaring absence for a device that accesses the Internet through a full Web browser. While this little device is a low-cost alternative to Smart TVs, it's not a suitable replacement for set top boxes. Compared with a low-end Roku box priced at $49, the SmartStick under performs in every area. It doesn't really matter that access to email and previously purchased media isn't immediately available on Roku. Aside from the content argument, Roku has a comparable device called the
Streaming Stick
available for just $10 more than the SmartStick plus Keyboard Controller. The Roku Streaming Stick doesn't require additional cables or power cords to work -- you just plug it into an available HDMI port. Android phones capable of playing HD content are readily available. These phones have WiFi capabilities, access to the Google Play Store and let you play your existing content when connected to your TV via HDMI. Connecting a phone you already own to a dumb TV makes more sense, than purchasing a Favi SmartStick. I hope future iterations include easier controls, a more flexible home screen, security, parental controls and the stock Android UI, to name a few features. I'd also like to see an improved user manual, and the elimination of the IR receiver. Considering the device's competition, there are far too many cords required for it to work. Save your dollars and choose a more mature platform for your streaming entertainment.