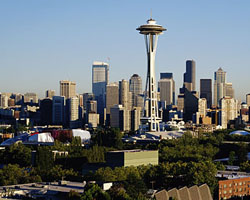 Amazon Enforces "No-Fly Zones" to Battle State Tax Laws:
Amazon staff that travel throughout the U.S. must first consult a company map that shades each state a different color to identify the states attempting to collect sales taxes from Amazon. Before traveling to "red"-colored states, Amazon staff must get permission from managers or lawyers since the travel might trigger laws that force Amazon to collect taxes in those states.
Wall Street Journal
Microsoft Conducts Contest for Hackers:
Microsoft is conducting the new BlueHat Prize competition that offers $250,000 in cash prizes to those who can create new security technology. The competition is designed to get security researchers and hackers working on innovative security technology to protect computers.
TechFlash
Web Search Revolution Needs to Happen Says UW Professor:
Google, Bing and other search engines are outdated and need to change said University of Washington computer science professor Oren Etzioni. Like IBM's Watson supercomputer, new search engines should answer questions based on information they extract from the billions of pages from the Internet, he said.
Seattle Post Intelligencer
AdXpose, Sucker Punch Productions and Griptonite Games Acquired:
AdXpose is the latest Seattle technology firm to be acquired. In other acquisitions, Sucker Punch Productions and Griptonite follow the recent acquisition of PopCap Games as more area game companies are snatched up.
Seattle Post Intelligencer
Microsoft Hopes Bing Will Become the New Google:
Microsoft is spending about $5 billion a year on Bing to compete against Google as a primary search engine. Microsoft is also hoping a partnership with Facebook will soon help its search results.
Portfolio.com
Apple's iCloud Rivals Amazon's Cloud:
Even though Apple's iCloud is still in testing phase, a new study found nearly half of surveyed developers plan to connect to the iCloud. That is just one percent shy of Amazon's 51 percent share, according to the survey.
CNET
Hipcricket Sold to Augme:
Mobile marketing campaign company Hipcricket agreed to be sold to Augme for $44.5 million. The company's 50 employees will remain in the Seattle area to help manage the more than 500 clients the combined companies will now have.
Geekwire