Job postings and salaries are on the rise as Silicon Valley leaders head north to find new talent.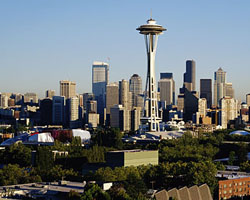 There's perhaps no more obvious way to track the health of Seattle's technology job market than to take a periodic headcount at Microsoft, the region's preeminent tech employer. Luckily, the current count is on the upswing. Microsoft added more than 500 jobs in the region during the third quarter, even as its worldwide headcount declined slightly. Today, the company employs 40,371 in the Seattle area, up from 39,824 at the end of June.

Down the highway at Amazon, there's more good news. The online retailer's worldwide headcount has climbed 44 percent over the past year to 31,200.
Over all, Seattle's unemployment rate stands at 8.7 percent, better than the current national average of 9.6 percent. While the area's job listings are down 2.0 percent month to month in the most recent Dice figures, the total of more than 2,000 jobs in October was actually up an astonishing 76.1 percent year to year, the best performance of all the metropolitan areas Dice tracks. Meanwhile, the Dice Salary Survey pegs the average Seattle tech salary at $84,114, up 1.9 percent over 2009.

Other data coming in from the U.S. Bureau of Labor Statistics confirms that Seattle tech salaries are on the upswing. Some examples:
- Computer programmers, up 5.3 percent from 2009 to $94,120.
- Database administrators, up 4.4 percent to $82,300.
- Network and systems data analysts, up 3.5 percent to $87,820.
- Software engineers, up 1.8 percent to $95,170.
- Systems software engineers, up 1.3 percent to $101,000.
- Network administrators, up 2.0 percent to $79,860.
- Systems analysts, up 1.5 percent to $86,590.

One intriguing factor figuring into these numbers is the phenomenon, first reported by TechFlash, of Silicon Valley heavyweights coming to Seattle in search of talent they can't find closer to home: "California-based tech companies including Facebook, social gaming firm Zynga, Web-based software provider Salesforce.com, and Internet TV service Hulu are establishing a new wave of engineering branches in the Seattle region. Their arrival promises to boost wages and create more opportunities for software developers and others with coveted technology skills."
According to Ari Steinberg, the Facebook engineer who heads the new Seattle office, "We want to hire more engineers, of the highest quality. We're getting as many as we can in the Bay Area, but that's still not as many as we'd like." Google, by the way, has had a Seattle presence since 2004.
A Greater Seattle Chamber of Commerce survey of businesses across all industries in King County found that 41 percent expect to add employees in 2011. Most of the new jobs will from mid-sized companies with from six to 100 employees. A majority of businesses, 56 percent, say they expect to do better in 2011; only 7 percent think they'll do worse. The most optimistic sectors: IT/gaming, human services, international trade, and food/beverage/retail.

The bottom line: Seattle looks well positioned to start off 2011 with a technology sector on the upswing.
-- Don Willmott