Whether you're applying for a job as a networking engineer or a Java developer, there are six things every IT employer really wants to know about you. At least that's what
ProSpring Staffing
President
Jack Molisani
says.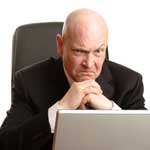 Find a way to hit on these hot buttons during an interview - even when your interviewer doesn't raise them - and you'll increase your chance of landing the job:
What kind of technologist are you - database, network, security?
How senior are you?
Do you have the tools I need to get this job done?
Where are you and do I have to relocate you?
Do you have a degree in my industry?
How expensive are you?
Molisani, whose Los Angeles firm places temp, contract and permanent employees, says his clients have modestly increased head counts approved for next year. "They're hiring, but not until their 2010 budgets," he says.
-- Dona DeZube