[caption id="attachment_6262" align="aligncenter" width="441"]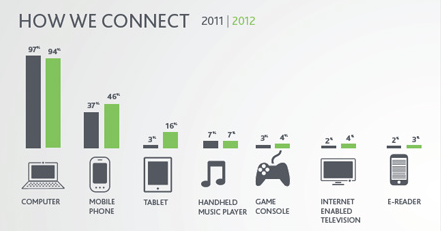 While a majority of users continue to rely on PCs to access social networks, mobile devices are gaining ground.[/caption] Whether driven by curiosity, loneliness, or simply the all-consuming need to bomb everyone they know with badly Photoshopped images of kittens brandishing machine-guns, hundreds of millions of people have taken to online social networks over the past several years—creating the biggest of Big Data problems not only for the corporations and startups behind those social networks, but also the organizations attempting to wrangle all that human information for their own game. The latest Social Media report from Nielsen and
NM Incite
suggests that the problems of wrangling that data will only increase in coming years (provided certain trends continue, of course). The collective amount of time spent on social media increased from 88 billion minutes in July 2011 to 121 billion minutes in July 2012—a 37 percent increase.
According to the report
, mobile is a major driver of social media's increasing prevalence. "The personal computer is still at the center of the social networking experience," read the introduction, "but consumers are increasingly looking to other devices to connect on social media." In all, mobile apps and mobile Web content accounted for some 63 percent of the year-over-year growth in the time people spent digesting social media. Pair that with 46 percent of respondents using a smartphone to access social media, with another 16 percent doing the same via a tablet, and you're witnessing a paradigm shift. At the same time, an increasing number of social media networks is also helping drive adoption. "While Facebook and Twitter continue to be among the most popular social networks," the report added, "Pinterest emerged as one of the breakout stars in social media for 2012, boasting the largest year-over-year increase in both unique audience and time spent of any social network." Although Facebook holds the crown among social networks with the most unique visitors in the United States, it's declined 4 percent in the past year among PC users; less than MySpace, which declined 13 percent, and in the same ballpark as Blogger, which dipped 3 percent. Twitter, WordPress, Pinterest, Google+, Tumblr and Wikia all enjoyed double-digit growth during the same period. But Facebook—and indeed, all the social networks recorded as part of the study—enjoyed double-digit growth over the past year among users of the mobile Web and the social network's mobile app. This underscores Facebook's need to figure out a way to sufficiently monetize its mobile endeavors, one of the widely-perceived keys to ultimately boosting its stock price. The study suggests that more and more people are using social networks to comment and engage with others over television content, such as the Olympic Games and the U.S. presidential debates; they're relying on those networks as a channel for customer service, with one in three preferring to use social media rather than a phone to reach out about a problem; they're taking to the networks to talk about brands, which is changing the game in many ways for companies and marketing firms. The growth in social networking forced Facebook's engineers to
create some rather ingenious systems
for dealing with an unending tsunami of data. But it also creates an issue for those IT vendors integrating more and more social elements into their analytics platforms and business software: how do you create an effective filter for social data—one that allows organizations to pull useful insights from data—when that amount of data is rapidly growing in size and complexity?
Image: Nielsen/NM Incite