Manuel Caldera is feeling a bit more optimistic these days, even though his contract job with a Los Angeles area HMO ends on December 31.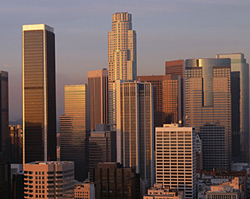 An experienced Solaris, AIX and Linux professional, Caldera has begun getting calls from recruiters saying companies are getting ready to hire again come January 2010. His friends report fielding similar calls. "They feel the industry is coming back," says Caldera. "I've stayed in contact with people I worked with 10, 15 years ago. Most are unemployed but now they're getting phone calls and a heads up (that jobs will be open)."
What positions do these recruiters expect to hire for? Caldera has heard about positions for Oracle DBAs, WebSphere, AIX, Solaris, Sybase and Linux administrators, and WebLogic.
Brian Gabrielson, regional vice president of Robert Half Technology's Los Angeles office, also sees signs the labor market may be getting better. After July 4, clients started to put in requests for certain IT specialties, such as virtualization and collaboration tools like SharePoint. One thing that hasn't changed much: Companies are focusing on IT pros who can help grow revenue or reduce costs.

"I think the tide has turned a little bit," says Gabrielson. "Five or six months ago, not a whole lot was going on. But a lot of clients cut too much, so now that their business has picked up they're starting to layer in workers. They're saying things like, 'I may be able to hire this person, so let's try them on a contract basis.'" Requests for direct hires, he notes, have also picked up significantly."
Bob Grimsley, managing director for Technisource's Los Angles office, expects full-time jobs to come back sometime in the first half of 2010. "Clients are coming back to the table because they have projects that were put on hold that need to get done," Grimsley says. "We are seeing a demand for project managers and business analysts, ERP, and security. Not so much in infrastructure."
None of this means things are rosy in Southern California. Santa Ana-based TTM Technologies, a printed circuit board manufacturer, announced in September the firm is closing its facility in Los Angeles, along with one in Hayward, resulting in the layoff of 347 employees. The cuts represent approximately 11 percent of the firm's workforce. Also, Los Angeles-based MySpace chopped 30 percent of its staff in June, or 400 people. According to a widely distributed memo from Chief Executive Owen Van Natta, the moves were made "for the long-term health" of the company, and will cut the number of employees to 1,000.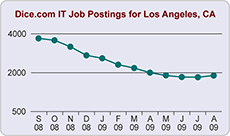 On Dice, job postings in Los Angeles have been basically flat the last several months, with 1,935 on the site in August. That's down 50 percent from August 2008.
California has one of the highest unemployment rates in the country - 12.2 percent in August, compared to 7.6 percent in August 2008, according to The Wall Street Journal. A UCLA forecast says the Golden State will continue to struggle with recession next year even though its high-tech industries will rebound.
The quarterly UCLA Anderson Forecast predicts the state's jobless rate will continue in double digits into 2011. California relies heavily on the slumping housing and financial industries for its financial health, and budget problems may cost many government workers their jobs. However, economists from the university predict Silicon Valley's economy will improve thanks to federal stimulus money and increased tech exports.