From improving sleep for millions to customizing a Disney resort experience - there's a team for that
You know the products. You likely even own one or two (or ten). From Kindle to Alexa to the new Halo Rise, Amazon's impressive slate of devices is even more vast and innovative than you realize.

This fall, Amazon's Devices & Services announced an array of new products, as well as exciting updates to existing ones. The tech giant has carefully curated all of these releases under a new concept, called "Ambient Intelligence" - technology that works (quietly) in the background to intuitively meet the needs of customers and enable them to live their lives to the fullest. Hundreds of people worked collaboratively for years to make these enhancements, and we caught up with a few to talk shop about this new direction.
Improving sleep for millions, now with the new Halo Rise
Perhaps one of the best examples of Ambient Intelligence can be seen with Amazon's newest and most buzz-worthy product releases, the Halo Rise. It's a first-of-its-kind contactless sleep tracker powered by the latest low-energy sensor technology and advanced machine learning.
"Quality sleep is an incredibly important factor in our overall health and well-being. In today's busy world, getting more and better sleep is one of the areas that customers ask us about the most, which is why we're tackling sleep head on," said Melissa Cha, Vice President of Amazon Smart Home and Health. "Halo Rise is designed to work intelligently in the background and give you an entirely new and effortless way to manage your sleep and achieve sleep-life harmony."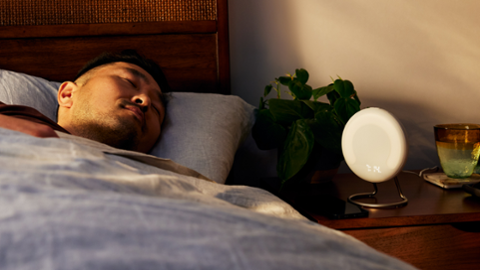 Amazon's New Halo Rise
We spoke with Cody Gordh, Product Lead, with Amazon, who presented the concept and vision for Halo Rise; and has seen the product all the way through to launch. When asking Gordh what drew him to this project, "I am a parent of two kids under two and have always had sleep problems. I have a passion for the space and recognize the importance of sleep to maintain a healthy and productive lifestyle. I also have a passion to invent. I'm inspired by creating 'new to world products,' which is precisely what Halo Rise is."
When it comes to the design of the device, "Halo Rise has the features of products you would typically find on your night stand, like a light, an alarm, a clock, and now a sleep tracker."
"There is no action needed on a nightly basis. Ambient Intelligence allows users to get the benefits of the product without having to lift a finger." says Gordh.
Gordh went on to explain the key inspiration for Halo Rise was finding a way to help customers sleep better, provide more insights around how they're sleeping today, and then giving them guidance for the future. Gordh, with help of a few hundred Amazonians and the introduction of Halo Rise, aims to help customers to "not just track their sleep, but actually help them sleep better."
"Hey Disney!": Introducing a magical new voice assistant
Amazon and Disney are creating an all-new custom voice assistant. "Hey Disney!", built on Alexa technology, allows customers to interact with some of their most beloved Disney characters, and enjoy special Disney experiences. The teams developing 'Hey Disney!' have worked tirelessly to innovate and flesh out the assistant's capabilities, customizing the voice AI to provide access to Disney's expansive universe in new and innovative ways, in addition to making the Disney Resort guest experience even more magical and seamless.
"Alexa has opened doors for companies to create intelligent assistants tailored to their brand personality and customer needs, and we embarked on a journey with Disney to bring this Alexa Custom Assistant to life in a special way. Amazon and Disney uphold a high-quality bar and customer obsession ideals that have made this project fulfilling to work on, and this was also the first time in my career that I was able to contribute to the development of a B2C product," says Srikanth Kasam, Principal Technical Program Manager with Amazon.
As a Program Lead for Alexa Skills Kit (ASK), Kasam's team encompasses developers that build skills for multimodal device experiences. Kasam was excited by both 'Hey Disney's' proposed capabilities and scale potential. Some of the most rewarding parts of the project for Kasam include "enabling multi-simultaneous wake word experiences on a single device, customizing and decorating content for daily, routine requests like setting timers and alarms, and asking for weather updates". Kasam paired his product expertise on the ASK team with over 30 groups at Amazon, including Alexa Smart Properties, to bridge the magic of Disney storytelling with Echo devices.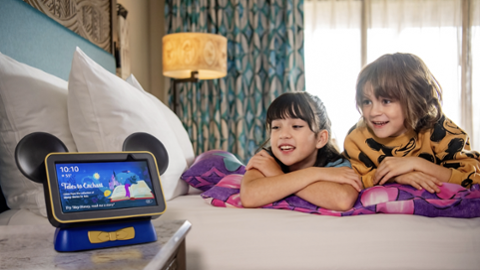 Amazon and Disney introduce 'Hey Disney!'
Kasam also shares his anticipation for the accessibility of this feature, thanks to AI. "Ambient Intelligence means always available, everywhere. It should slip away into the background and be ready to serve. It should never come in the way, but enhance life upon request. It should not only understand what I say, but what I intend or mean and then take action with privacy, safety and security in mind."
Kasam has a great sense of pride in his work and the widespread impact it has on customers. "Working on 'Hey Disney!' and thinking about the potential for it to surprise and delight families for so many households is something that gives me goosebumps even thinking about it. This is what keeps me going with the same energy and excitement that I had on my first day at Amazon. For me it's still Day 1."
Kindle Scribe: Taking an innovative approach on one of the oldest experiences, writing
Whether you write in beautiful cursive or your writing has been compared to the likes of chicken scratch, Kindle Scribe takes the writing experience into the future. Kindle Scribe is the world's first 10.2" inch 300 ppi, glare-free Paperwhite display. Scribe comes with either the Basic Pen or Premium Pen, neither require syncing or battery, and the Premium Pen has a dedicated eraser on top as well as a customizable shortcut button for assigning specific actions like a highlighter. Both pens are "ready to write" straight out-of-the-box to take notes, journal, and create handwritten sticky notes in millions of eBooks from the Kindle Store.
Although writing on paper can seem like second nature, recreating the experience via an electronic device is no small feat.

"One of the biggest challenges we faced with Kindle Scribe was something we knew we had to get right - the fundamentals of how it feels to write. Our outstanding hardware design, product, and engineering teams were able to nail down the physical "pen to paper" feel, working hard to find the right anti-glare coating on the display and the right kind of tip on the pen to mimic the feeling of writing on paper," says Amazon's Jordan Meenen.

Meenen is a Product Lead for Kindle Scribe and self-proclaimed avid learner and lover of science and technology. Jordan began his journey in Product Development, when he was studying mechanical engineering during his undergraduate at MIT. He recalls taking course 2.009-Product Engineering Processes that inspired his career path in Product Development and the importance of making products people care about.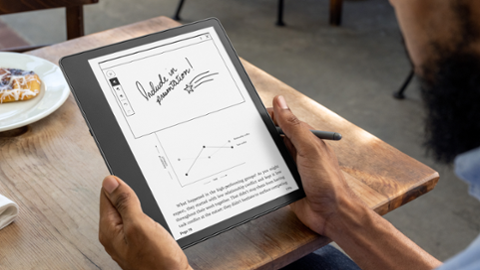 Amazon Kindle Scribe
"My big takeaway from this course was that, while technology is undoubtedly a powerful tool, the real magic happens when you can be just as thoughtful about the wants, needs, and struggles of actual human beings…Since then I've had the chance to learn and contribute to product development in a variety of ways (from mechanical design to software testing to operations) at companies big and small, but without a doubt I have felt the most fulfilled as a product manager here at Amazon, building products like Kindle that people love." Jordan's passion for making products shined through when asked what excited him most about working on Kindle Scribe.

"I think my favorite thing about working on a product like Kindle, that is loved by so many, is the amount of feedback we get from passionate customers. They aren't shy to tell us what they think - and we take what they say seriously…I'm looking forward to not only delighting customers with the Kindle Scribe, but opening up a brand-new dialog with them on the future of reading and writing."
Building new technology today for a better world tomorrow
It takes thousands of people to bring these ground-breaking new products and features to life. The result? "Intuitive smart home technology that pushes the boundaries of what's possible today: the latest sensors to help you sleep better and give you peace of mind, personalized services to enjoy the more delightful moments with those you love, and of course, devices that just work, straight out-of-the-box, and allow us to live more sustainably," Dave Limp, Senior Vice President of Amazon Devices and Services, shared earlier this fall.
For Amazon, Ambient intelligence is meant to be proactive, personalized, and intuitive for everybody, creating a world that can adapt to our needs so we can stay in the moment, while digital systems, services, and devices work quietly in the background.
Learn more about our Amazon employees on the Devices and Services job page.
Learn more about the Devices & Services team as well as Amazon's latest lineup of products and innovations.
Amazon Devices is proud of the inspiring work our teams are doing. Our employees bring diverse backgrounds and perspectives together to shape innovation and build technology "that just works" to better the lives of millions.
Additional articles and insights from the Amazon team can be found on Amazon News