Capital One's Arthur Deane Tells Us How to Prioritize Work-Life Integration
Working from home seemed like the perfect solution to achieving a work-life balance. Without having to commute – or let's be honest, wear professional garb day-to-day – many felt they'd have more time to get through tasks and leave work in their rearview. Then reality hit us.
When the COVID-19 pandemic hit, employers everywhere placed staff in a work-from-home scenario that left many working far too much. Without built-in excuses like leaving the office to beat traffic home, many are unable to fully tear themselves away from work.
Finding The Balance
Capital One, like most employers, asked associates to work from home as a safety precaution. Unlike many employers, Capital One is shining brightly by supporting its associates who may not feel the same connection and camaraderie they did in the office. We spoke with Arthur Deane, Senior Director of Information Security for Capital One, about how the company was supporting associates who work from home, and how he balances work responsibilities with personal passions.
Deane's employment at Capital One began around the time COVID-19 lockdowns started. Previously at Google and Amazon, Deane tells Dice he wanted to work at Capital One because there are "unique opportunities to marry an innovative, forward-leaning culture of tech with a desire and attention for cybersecurity" at the company.
Deane tells Dice he wanted to be at Capital One to build a fintech juggernaut. "It's a buzzword now," Deane says, "but the awareness of fintech is growing. We're at a point where the capabilities [of fintech] are scratching the surface, and smaller companies are creating one-off solutions and being competitive."
In its way, fintech is at the same inflection point the app economy was when Apple opened its Software Development Kits (SDKs) and Application Programming Interfaces (APIs) to developers. With growing awareness of apps and the tools to build great things, developers were flooding the market with apps that became massive businesses and platforms.
Flexibility Is Key
With such opportunity comes the obvious potential pitfalls of overworking yourself and burning out. Deane says his own work-life balance is an "evolving story." He advises applying the same prioritization you have for work to life. "Pay attention to personal needs," he notes, "and prioritize as necessary."
Deane enjoys traveling, a particularly difficult task these days, and tells Dice it's "easy to get caught up in the grind and spend my weekend doing chores." Life's little tasks are obviously important, but it's okay to admit to yourself when it's better to let things slide to take time for yourself.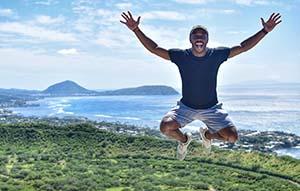 Pay Attention to personal needs, and prioritize as necessary

Arthur Deane, Senior Director of Information Security, Capital One
"My natural instinct is to get to work right after waking up, and it's too easy to return to work right after dinner. It can be hard to create that break. I've worked from home before, and it definitely helps to have an employer who encourages and supports its staff to take breaks and enjoy time to themselves."
Take Advantage Of The Tools Available
Capital One's Employee Assistance Program (EAP) helps too, Deane adds. EAP provides a robust set of services including telephonic, virtual and/or face-to-face counseling, legal and financial assistance, ID theft recovery, and information on health and well-being. The company also "ensures associates have everything they need to be successful from home," and Deane says Capital One is incredibly flexible with time off.
Deane tells Dice that while Capital One is supportive of its people and works hard to foster a culture where work and life integrate, the responsibility is ultimately up to each of us to create our best work-life balance. "It has to be self-driven," Deane says. "It can't always be company culture telling you what to do."
Hold Yourself Accountable
It's a fair point. Though Capital One supports its associates in taking time off or stepping away from the computer at the end of the day, it's still up to each of us to create those divides. "Tech pros are great at prioritization already," Deane says. "Apply the same to your work-life balance and things will be just fine."
Learn More About Capital One's Culture & Open Positions