Don't have a Facebook account? You're not welcome to sign up for a Spotify account then. That seems to be the case since Spotify announced a partnership with Facebook last week. On
Get Satisfaction
, a would-be user asked whether one can sign up for the music service without a Facebook account:
There seems to be nowhere on Spotify's website that lets you sign up for Spotify without a Facebook account. The sign up link ask to log in to Facebook or create a new Facebook account. Is there a hidden link anywhere on the website that lets you sign up without linking it to a Facebook account?
To which a Spotify employee replied:
Hey Guys thanks for your question, Unfortunately you will need a Facebook account to access Spotify from now on, unless you already have an account set up. This does not stop you creating the Facebook account adding nothing to it and making it totally private as the Facebook account does not have to be actively used.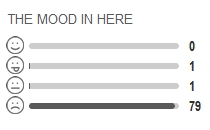 In other words, if you're not already one of Facebook's active users, you have to either set up a dummy account or settle for a life without Spotify. Users who signed up before the policy change can keep their accounts as they are, though some have vowed to either cancel their account or un-link it with their Facebook account in protest. It's not hard to guess that users aren't happy with the change. One commented: "The adage is if you're not paying for it, you're the product. It seems in the case of Spotify you're paying for it -- and -- you're the product." The general voice in the support thread is:
stupid
(12) and bad (27). Indeed, indeed.
Update:
Spotify issued a statement responding to the criticism, courtesy of
Music Ally
.
"To us, this is all about creating an amazing new world of music discovery. As most of our users are already social and have already connected to Facebook, it seemed logical to integrate Spotify and Facebook logins. We already use Facebook as part of our backend to power our social features and by adopting Facebook's login, we've created a simple and seamless social experience. From today, all new Spotify users will need to have a Facebook account to join Spotify. Think of it as like a virtual 'passport', designed to make the experience smoother and easier, with one less username and password to remember. You don't need to connect to Facebook and if you do decide to, you can always control what you share and don't share by changing your Spotify settings at any time. We're constantly trying new things, always looking for feedback and we're always going to listen to our users, making changes based on this feedback wherever we can."