If you're one of those people who fanatically loves the iPhone and wishes you could use it for work, you may be in luck. Fortune magazine's Philip Elmer-DeWitt reports that IT departments are finally starting to buy Apple's smartphone. That's a big change from two years ago, when IT wanted no part of supporting the newfangled gadget, especially since it didn't have many enterprise-related applications to go with it.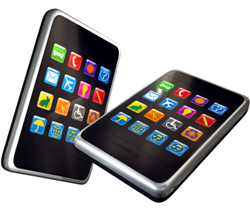 But according to a Deutsche Bank report, by the end of the year Apple will have shipped about two million iPhones into corporate accounts "through various routes, including internal IT department purchases and formal reimbursement policies." According to Elmer-DeWitt, that would give Apple about a seven percent share of the enterprise smartphone market this year, up from two percent in 2008.Why?
1) User satisfaction. A recent J.D. Power survey that named the iPhone "best in class" for both the consumer and enterprise markets.
2) Virtual keyboard. As it turns out, people don't mind typing without a real keyboard.
3) Enterprise applications. There are now about 6,000 are enterprise-related applications.
4) Sluggish competition. Overall, RIM and Microsoft have a hold on the business smartphone market for now, with RIM controlling a 60 percent share, but that's starting to change. And the arrival of the Google/Verizon Droid phone is only going to make things more interesting.
Is your company supporting the iPhone yet?
--Don Willmott