Demand for tech professionals isn't slowing down anytime soon, according to nearly 800 tech-focused hiring managers. In fact, tech-hiring intentions for the first half of 2015 are record breaking. Heading into the new year, 75 percent of recruiters anticipate hiring more tech professionals in the first six months of 2015 than the last six months of 2014, an all-time high for Dice's semi-annual hiring survey. That's five points greater than mid-year and two points greater than December 2013. Nearly three quarters (72 percent) of companies are planning to expand by more than 10 percent in early 2015, another record breaker for Dice. Sixty-eight percent of recruiters anticipated hiring over 10 percent more professionals six months ago, and 65 percent projected such a large-scale hiring push a year ago. So, tech professionals looking for a job or considering leaving their current one should really take advantage of this opportunity.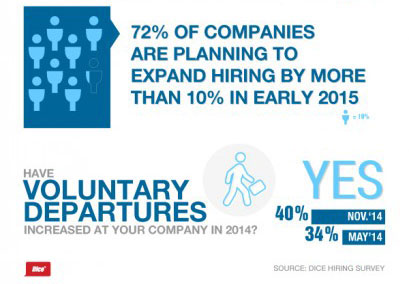 "The year ahead looks bright for tech professionals. In high demand and with hiring managers looking to hire a substantial number of new hires, tech professionals really have strong negotiating power," said Shravan Goli, President of Dice. Candidates today are more confident in their marketability, with 64 percent of hiring managers seeing candidates ask for more money, an increase of three points from mid-year, and 40 percent seeing an increase in the number of voluntary departures, a six-point jump from June. With high turnover rates, counteroffers are becoming more commonplace. In fact, 43 percent of recruiters noted seeing or offering more counteroffers to retain existing staff, a ten point upturn from six months ago.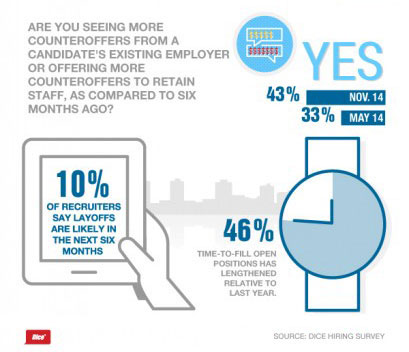 Time to fill open positions has lengthened relative to last year, according to 46 percent of recruiters. While in large part due to the limited pool of qualified talent, 42 percent also cited increased discernibility as a reason for longer vacancy durations. Like the last six months of 2014, hiring managers are particularly interested in the experienced candidate. The majority (76 percent) are hiring for positions requiring six to 10 years of experience, while four in 10 (40 percent) are hiring for positions requiring more than 10 years of experience.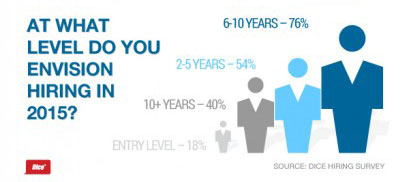 According to 10 percent of recruiters, layoffs are likely in early 2015, a slight tick down from the 12 percent who said this in the mid-year survey, which is a positive signal for employment.
About the Survey
From November 10 to November 14, 2014, Dice surveyed human resource managers, recruiters, consulting and staffing companies from every region of the country who primarily hire or recruit technology professionals. With 776 responding to the survey, 33 percent identified as recruiting for their own corporate needs. Of the respondent group, 20 percent worked for companies with more than 500 employees.
Image: Dice