Tech centers are
leading the recovery
, adding jobs more quickly than the overall economy, according to the Progressive Policy Institute. In a recent analysis, the think tank ranked the top 25 counties for tech job growth as a share of total private-sector employment between 2007 and 2012. Among other things, it found those centers aren't necessarily where you might think.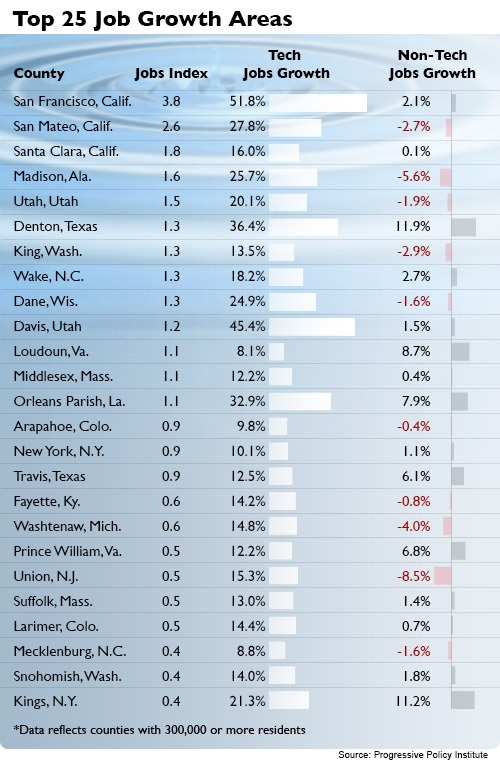 "Counties with a higher number of new tech/information sector jobs … enjoyed substantially faster growth in both overall private employment and non-tech jobs over the same period," the report says. There's a pretty big caveat: The report's definition of tech jobs is pretty broad. It includes traditional IT positions like computer programming (including app and Web development), data processing and hosting, telecom and other computer related services, however it also encompasses jobs involved with things like news services, print and digital publishing and social media. On the other hand, those latter jobs may not be as off-base as they seem.
The Atlantic
recently explored how old media is fueling the tech boom in New York City. Its report "reflects the shift of high-tech industry and jobs from just a few areas … like Silicon Valley and the Boston suburbs, to more urban locations and college towns. The range of places where tech matters is substantially different than it was just a decade or two ago," according to
Senior Editor Richard Florida
. Another reason tech jobs are good for an area's economy: A recent Kauffman Foundation report found that tech startups
are more likely than the overall economy to create jobs
. Based on 2011 data, the foundation found that the information and communications technology sector was 48 percent more likely to create new businesses. Tech startups tend to either fail quickly, before creating many jobs, or expand quickly, creating sustainable jobs, it said.