Hiring
Amazon's
fast-growing cloud-services unit, Amazon Web Services,
is accelerating its efforts
to find solution architects, business-development managers and salespeople. (For some tips on breaking into Amazon, take a look at
our discussion with the company's recruiting director
.)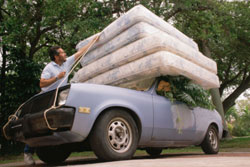 MetLife
will be hiring technology staff for new global technology and retail business operations centers in Cary, N.C. Between IT and other staff, the insurer plans to add 2,600 people through 2015.
General Motors
needs 1,000 workers for its new information technology center in Chandler, Ariz. Until the new center is built next year, GM will base its software developers, business analysts, database personnel and project managers at a temporary Phoenix center. Shipping-software company
ShipWorks
is looking to hire nearly a dozen senior software engineers, product technicians and customer-care reps at its downtown St. Louis site. The company plans to conduct hiring through July. A survey by
Robert Half Technology
found that 14 percent of U.S. CIOs plan to expand IT hiring during the second quarter. Although 61 percent said they won't add staff, they do plan to hire for open positions during the period.
Laying Off
Struggling
T-Mobile
reportedly plans to eliminate 100 positions at its Washington State headquarters as it gears up for its merger with MetroPCS. In May, the telco carrier
expanded previously announced job cuts
to include an additional 900 employees.
Google
is cutting roughly 1,200 positions at Motorola Mobility. The cuts amount to 10 percent of the unit and continues massive, ongoing layoffs there. In August, Google announced it would
cut 20 percent
of Motorola's workforce and shutter a third of its nearly 100 worldwide offices.
IBM
is sending manufacturing operations for PureFlex Systems, Power Systems and PureSystems from Rochester, Minn., to Mexico. Also, jobs tied to its refurbishing operations will also move out of Rochester but will remain in Poughkeepsie, N.Y. Although Big Blue didn't reveal the number affected, the local PostBulletin.com said sources put the figure at upwards of 3,000.
Is there hiring or firing going on at your company? Email what you know — in confidence, of course — to
tips @ dice.com. (And remember, you probably don't want to send from your company email address.)