Here's our weekly snapshot of who's hiring and who's firing across the IT landscape.
Hiring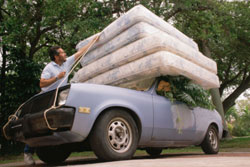 Solutions provider
Barracuda Networks
plans to double the size
of its Ann Arbor, Mich., development branch over three to five years. It's aggressively hiring Linux and mobile expertise, test engineers and support staff. [Dice News]
Schell Games
, a Pittsburgh-based game developer, is looking for a Unity3D programmer who's an ace in C#. It also needs a senior game producer. Schell has produced such games as
Tunnel Tail
and
Puzzle Clubhouse.
[Mary-Margaret Network]
Cloud Imperium
is seeking a gameplay programmer to work on its
Star Citizen
game in either its Los Angeles or Austin, Texas, office. [Mary-Margaret Network] North Carolina-based
Vidant Health,
a regional health-care provider, is expanding its IT department and needs to fill more than 40 positions, ranging from systems engineer to project manager to solutions architect. [Dice News]
Video Gaming Technologies
, a Nevada-based casino-game manufacturer and distributor, is seeking to hire 20 positions as part of its expansion. The company has openings for a Scrum Master II, Scrum Master III, database engineer III and QA analyst III at its Franklin, Tenn., office. [FoxReno.com and Dice News]
Layoffs
Cisco Systems
issued layoff notices to approximately 500 workers, less than 1 percent of its global workforce, as it assesses its router and switch business in light of demand for software-based networking and cloud computing tools. The cuts come less than a year after its last round, which doled out
pink slips to nearly 1,300 workers
. [Network World]
T-Mobile USA
is cutting 200 to 300 employees from its operations group in a cost-cutting move. The company is in the process of merging with MetroPCS Communications, although two notable shareholder advisory firms advised their clients to reject the deal at a shareholder vote on April 12. [Reuters]
Boeing
handed out advance layoff notices to 59 workers in a cost-cutting move that could expand to hundreds of others. The aircraft manufacturer may move some engineering support personnel from Washington state to Long Beach, Calif., as well as transfer some of its IT support operations from both Washington state and Southern California to South Carolina and St. Louis. [Seattle Times]
Lynda.com
, an online learning site, is laying off 45 workers in Ventura, Calif., as part of a restructuring. The cuts represent approximately 10 percent of its worldwide workforce. [Ventura County Star]
Flextronics Americas
, an electronics designer, manufacturer and distributor, is cutting 147 people from its payroll of 200,000 worldwide. The reduction is part of a restructuring being undertaken in light of the company's current business outlook. [Houston Business Journal]
NCsoft
, developer and publisher of MMO games
Lineage
and
Guild Wars
, is letting go several contractors and employees as it shifts its approach to rely on its internal publishing service for support. [Joystiq]
I
s there hiring or firing going on at your company? Email what you know — in confidence, of course — to
tips @ dice.com. (And remember, you probably don't want to send from your company email address.)