by Don Willmott
A recent routine visit to my doctor's busy office got me thinking about - you guessed it - health care. Watching the small team of clerks fussing over groaning shelves of color-coded file folders made me wonder why all that information wasn't on a computer, or on a card in my wallet, or on a chip implanted in my neck. Anywhere but on those shelves. It doesn't take a brain surgeon to figure out that all that paperwork is wildly expensive to produce and maintain. There has to be a better way.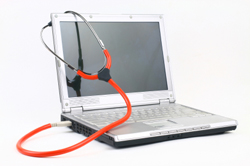 If health care isn't IT's greatest growth opportunity, then I don't know what is. EHR (for "Electronic Health Records" systems) is one of the big buzzwords of the government's stimulus plan, with $36 billion earmarked to help bring medical records into the 21st century and, with any luck, cut costs significantly.
As Dice News has reported, big hospitals can and do make good use of EHR today, but smaller doctor's offices won't necessarily achieve similar economies of scale after making a significant investment in technology. They feel they can't afford to dive in, at least not yet. But maybe my doctor is just slow to get started. According to InformationWeek, "More than 48% of the people surveyed by GfK Roper for IT vendor Practice Fusion said their doctor stored medical records electronically in the examination room, as opposed to writing information on paper charts. Of those patients, more than 45% said their doctor made the switch in the last two years, and more than 14% said the switch occurred in the last six months."

The same survey found that patients who visit non-digital doctors are split on whether EHR is even a good thing to begin with. A discouraging 33 percent don't want their doctors to go digital, and 29 percent aren't sure. Who are these people? Privacy zealots? Small government advocates? Luddites? Maybe they'd change their minds if they believed EHR will ultimately lower their medical bills and insurance premiums.
Despite those naysayers, interest in EHR has never been stronger, as evidenced by a survey released last week by the American Society of Health Informatics Managers, a professional association for IT professionals who specialize in Health IT. One hopeful result: More than 95 percent of Health IT workers surveyed feel there will be at least 50,000 new health care IT jobs created in the next five years, with 12 percent saying there will be more than 100,000 - and up to 200,000 - positions created.

What will most of those jobs be? EHR consultants and application training and support positions, according to the survey. Additionally, more than 50 percent believe IT professionals will seek additional skills to work in HIT, and 95 percent say HIT certification is somewhat or very valuable in the hiring process.
HIT expert Anthony Guerra agrees. "The people needed to implement electronic medical records and other advanced clinical systems just don't exist.... By my count, $118 million of taxpayer money is being used to devise training programs that teach HIT skills, and develop tests that verify the knowledge has been absorbed. The question will soon become: Have these programs produced people who can actually do the work that's needed in the trenches? ... And, most importantly, can they do it all in the next two years, when they'll be most sorely needed?"

There's clearly an opening here for an army of tech experts to equip and train thousands of doctors' offices with the latest EHR. Please hurry, before all those charts in my doctor's office finally come crashing down.