[caption id="attachment_13408" align="aligncenter" width="618"]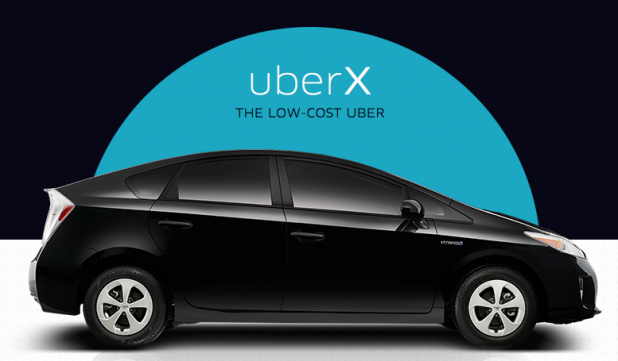 Advertising guaranteed to send your local taxi commissioner into a fit of rage.[/caption] What if the "sharing economy" tried to strike, and nothing happened? That seems to be the case in Boston, where a number of UberX drivers
reportedly planned to strike
between 3 P.M. and 8 P.M. on Oct. 22 in response to a rate cut. UberX is a low-cost program from Uber, which is attempting to "disrupt" the traditional cab industry via a mobile app that connects ordinary drivers in need of cash with passengers who want to go somewhere. While Uber and similar startups have always faced significant pushback from taxi companies (some of which claim their businesses are in
serious financial pain
from the
"ridesharing" movement
), they've only recently begun to face protests from drivers who feel they're being underpaid.
In a blog posting
ahead of the Boston strike, Uber suggested that lowering the prices for its already-low UberX service would actually translate into more revenue for drivers. "Uber started a bold initiative several months ago to lower prices on the uberX product across the country with the premise that lower prices would actually generate disproportionately more fares for drivers due to huge demand at lower prices," that posting suggested. "Our hypothesis played out and we have seen increased net income for our partners after huge price reductions in Los Angeles, San Diego, San Francisco, Seattle, Chicago, DC and many other cities." Uber claims that Boston's UberX drivers have earned 22 percent more per hour since the fares dropped last week: "It almost seems too good to be true, but what we've seen in cities across the country is that with lower costs, Uber becomes more accessible to more people, increasing demand for rides, especially during previously slow times." Whether or not Uber's blog posting made any sort of impression on the potential strikers' mood—it's always possible that the vast majority of Boston's UberX drivers didn't care about a labor dispute—it seemed that the strike failed to have much of an effect. "One hour into reported strike, we have not seen any impact on availability or service levels… will continue to keep you posted," Uber CEO Travis Kalanick
Tweeted Oct. 24
. Five hours later, in another Tweet, he suggested that UberX's Boston contingent had 10 percent more supply hours than the same day a week before. Local media backed up that assertion. "Planned UberX strike in BOS today does seem to have fizzled," reporter Scott Kirsner
Tweeted
soon after Kalanick's initial Tweet. "No spokesperson? Website? Twitter account?" Many of the premier firms of the sharing economy, such as Uber and Airbnb, are locked in battle with some combination of deeply entrenched industries and government regulators. Even as Uber and its ilk battle taxi commissions (which are pressing city governments to ban ridesharing firms on the basis of being unlicensed taxi dispatchers),
Airbnb faces the fight of its existence in New York
, where the government is trying to declare its practices illegal. Coursea, a pioneer of the newfangled Massive Open Online Courses (MOOCs),
has caught the attention of Minnesota's Office of Higher Education
, which informed the company that it must pass the usual regulatory hurdles before it can "disrupt" how people learn. The heads of these disruptive companies, of course, argue that these stodgy institutions deserve to crumble in the face of a new model. And there's certainly something to be said for a business that leverages the power of crowds and online social tools to make a task or process more efficient. But philosophers such as Evgeny Morozov argue that "disruption" and efficiency shouldn't eclipse all other considerations; fairness and equal access—whether in the form of decent wages or health-and-safety inspections—are just as important, and those are things that only regulatory bodies can provide. Private companies, almost by definition, are interested primarily in profit. Ever since the sharing economy began its rise, commentators have seen this conflict between Startups and Old Guard as the main one confronting the model. But if the "labor" that drives the sharing economy becomes more agitated about its compensation, it could create yet another interesting wrinkle. The Boston strike may have fizzled, but that doesn't mean another one, in a different city, won't enjoy more success.
Image: Uber