Is it too early to make predictions for 2010? Not for the people at
Gartner.
They're in the predictions business, after all.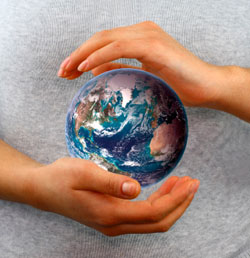 At a recent symposium, its IT research team revealed its list of
the top 10 technologies for 2010
- the ones that will be most strategic for organizations. "Companies should factor the top 10 technologies into their strategic planning process by asking key questions and making deliberate decisions about them during the next two years," said
David Cearley
, vice president at Gartner. So let's see how many you're familiar with. Here's how the firm describes them:
Cloud Computing.

Using cloud resources does not eliminate the costs of IT solutions, but does rearrange some and reduce others. In addition, consuming cloud services enterprises will increasingly act as cloud providers and deliver application, information or business process services to customers and business partners

Advanced Analytics.

Optimization and simulation is using analytical tools and models to maximize business process and decision effectiveness by examining alternative outcomes and scenarios, before, during and after process implementation and execution.

Client Computing.

Enterprises should proactively build a five to eight year strategic client computing roadmap outlining an approach to device standards, ownership and support; operating system and application selection, deployment and update; and management and security plans to manage diversity.

IT for Green.

The use of IT, particularly among the white collar staff, can greatly enhance an enterprise's green credentials.

Reshaping the Data Center.

Cutting operating expenses, which are a nontrivial part of the overall IT spend for most clients, frees up money to apply to other projects or investments either in IT or in the business itself.

Social Computing.

Enterprises must focus both on use of social software and social media in the enterprise and participation and integration with externally facing enterprise-sponsored and public communities.

Security - Activity Monitoring.

A variety of complimentary (and sometimes overlapping) monitoring and analysis tools help enterprises better detect and investigate suspicious activity - often with real-time alerting or transaction intervention.

Flash Memory.

At the rate of price declines, the technology will enjoy more than a 100 percent compound annual growth rate during the new few years and become strategic in many IT areas including consumer devices, entertainment equipmen,t and other embedded IT systems.

Virtualization for Availability.

Live migration is the movement of a running virtual machine (VM), while its operating system and other software continue to execute as if they remained on the original physical server.

Mobile Applications.

By year-end 2010, 1.2 billion people will carry handsets capable of rich, mobile commerce providing a rich environment for the convergence of mobility and the Web.
So there you have it: a few hints about where we're heading and what you'll need to know as we journey into the months and years ahead.
-- Don Willmott