[caption id="attachment_17248" align="aligncenter" width="618"]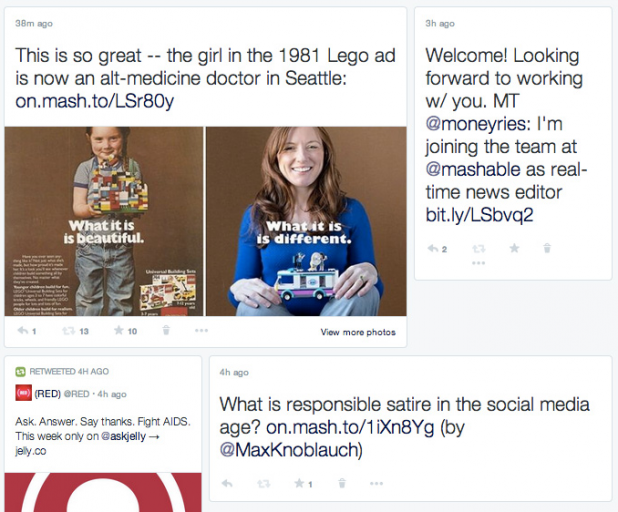 A glimpse of Twitter's (possible) new design.[/caption] Twitter could launch a radical redesign of its user interface, according to screenshots
posted by Mashable
. If the social-messaging service rolls out a revision that actually resembles those screenshots, it'll have veered firmly into Facebook and Google+ territory: in addition to a prominent cover image with an imbedded profile photo (reminiscent of what Facebook presents on its profile pages), there's an emphasis on larger photos within the actual feed, along with a "cards" interface (similar to what Google does with Google+) for its Timeline, Favorites, and new Photos/Video section. Why would Twitter so radically change its interface? The answer, of course, is money. Although Twitter posted healthy revenues in its first-ever quarterly earnings report (it made $243 million between October and December), it faces the prospect of a slowing user-adoption rate and a significant decrease in the number of timeline views, all of which could impact its longer-term revenue prospects. "We are doubling down in 2014 to accelerate the growth of our core user base," CEO Dick Costolo told analysts on the company's quarterly earnings call,
according to Time.
"We have a very clear roadmap across a number of dimensions that we will use to drive interaction and engagement and make it easier for a broader audience to get Twitter, to understand Twitter more quickly." But his words didn't prevent Twitter's stock from plunging the next day. New features are obviously a part of that roadmap. And if a new design (whenever it rolls out—heck,
if
it rolls out) encourages people to upload more photos and video, and generally spend more time inputting their personal lives onto the site, it'll give Twitter more data to analyze and sell to advertisers, which in turn will boost revenue and maybe even profits. But as the developers and administrators of any Website undergoing a revamp will tell you (wink, wink), there's always the risk that the revamps will alienate the existing user base, leading to gradual (or not-so-gradual) audience erosion. And without data, of course, there are no analytics—and no cash.
Image: Mashable/Twitter