[caption id="attachment_11847" align="aligncenter" width="531"]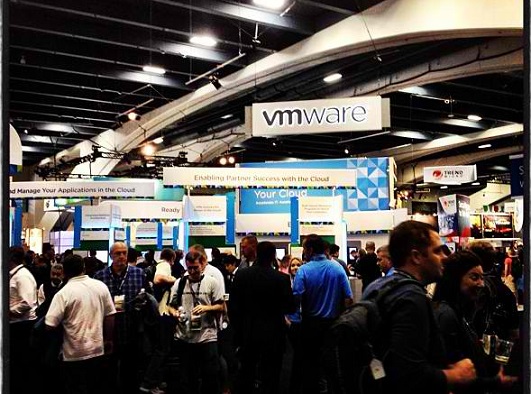 Crowds at VMworld 2012, where VMware coined the term "Software Defined Datacenter." Analysts expect more than talk at this year's VMworld.[/caption] VMware may not literally declare the traditional datacenter dead at its VMworld blowout next week, but it looks as if it will come very close. The most-anticipated topic for the VMworld 2013 conference running Aug. 25-29 in San Francisco appears to be the future of the Software-Defined Datacenter (SDDC), a vague and relatively obscure datacenter-virtualization topic that was blown into a fully hyped IT-industry buzzword after being featured at the 2012 VMworld. The big news at 2012 VMworld was the introduction of vCloud Suite 5.1, a set of applications VMware touted as a way to virtualize servers, storage, networking, security and management of datacenters, converting traditional datacenters into virtual clouds that could be managed and configured from a management console rather than by moving server-racks around. VMware focused particularly on its new virtualization capabilities from the
Software-Defined Networking (SDN) technology of recent acquisitions Nicira
and
DynamicOps,
a startup specializing in virtualizing traditional datacenter software so it could run on internal private clouds, external public clouds or hybrids. DynamicOps' datacenter-abstraction has since become the VMware vCloud Automation Center; Nicira's Network Virtualization Platform (NVP) has been incorporated into
VMware's NSX,
which is designed to virtualize and manage both networking gear and virtual machines. VMware's goals in 2012 were anything but modest. "The software-defined datacenter is about... virtualizing all the different components you have in the datacenter,"
VMware CTO Steven Herrod
said in last year's keynote. (Herrod has been credited with coining the term software-defined datacenter.) His boss was even less modest in describing VMware's goals, which included not only virtualizing on-premise datacenters, but combining them with external clouds and services into a single virtual unit that could be managed, load-balanced, backed up and secured from a single interface. "If we look in the data center of today we see a museum of the past,"
VMware CEO Pat Gelsinger said in his keynote.
"It's time to move on." VMware's rhetoric isn't any less strident this year. The topic of a panel featuring Marc Andreesen, Gelsinger and Graeme Hay (head of infrastructure at Credit Suisse) is the evolution of IT and the datacenter. Its title is
The Data Center is Dead, Long Live the Data Center.
Since 2012, however, VMware has "underwhelmed" customers with its universal datacenter-virtualization capabilities, according to a blog from Gartner virtualization guru Chris Wolf previewing important issues for the show. "VMware needs to make the case for its software-defined data center and hybrid cloud initiatives," he wrote. "VMware needs to show that it intends to be a serious infrastructure as a service (IaaS) provider in order to instill confidence in its customers, partners, and investors." VMware is expected to try to live up to that charge by launching its
vCloud Hybrid Cloud Service,
which is designed to create a common management platform for both internal and external VMware-based clouds. It is also
likely to announce improvements in its NSX offering
and greater integration with other VMware products as part of an overall push to present VMware as a provider of end-to-end SDDC platforms covering everything from virtual-cloud-management to virtual desktops. Several
breakout sessions and a host of technical briefings will cover updates to software-defined storage,
especially in conjunction with products from parent company EMC, which went to the trouble of announcing Aug. 23 that
it had been named in a Wikibon survey as the storage provider whose products integrated most completely with those of VMware
(though it might have been more surprising if that were not true). What isn't clear is whether VMware will address the non-technological barriers to fully integrated hybrid cloud computing, especially changes in licensing that make it simpler and less expensive to pay once for management software and use it within a datacenter, a virtual-private cloud or to manage workloads in the public cloud, according to Gartner's Wolf: "VMware has an opportunity to show leadership by offering simplified licensing, and so far neither VMware nor any major competitor has truly simplified licensing for the cloud."
Image: VMware, Inc.