If the fledging wearables market becomes anything like the smartphone market, mobile game developers may find themselves creating a new category of titles, according to
Reuters
. New "micro-engagement" games of 30 to 90 seconds may emerge, specifically tailored to wearable devices from smartwatches to bracelets, from
cameras
to Google glasses.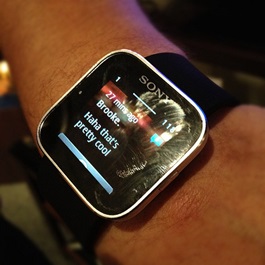 Juniper Research estimates that there were roughly 87,000 global shipments of wearable "smart glasses" during 2013. By the time 2018 rolls around, the company expects to see 10 million units shipped annually worldwide. Meanwhile, Google is expected to broadly launch its highly touted Google Glass sometime this year. Of course, "smart glasses" are just part of the wearable future. Juniper forecasts that shipments of smart wearable devices overall will reach in excess of 130 million units by 2018. And if wearables catch on like Android smartphones, it's conceivable the market could one day expand to a billion units shipped. To put things in perspective, consider this: Industry researcher
BGR
predicts that Android smartphones will reach more than 1 billion shipments annually in 2017. As wearable devices gain traction, some point to a new major industry forming in tech. "A whole new app ecosystem is going to be born," Shawn Hardin, CEO of Mind Pirate, told Reuters. Add to that sentiment the idea that wearable devices could be a growth driver for mobile games in the coming years. In 2010, the mobile game app market stood at $6 billion. It's expected to grow to $17 billion this year, Reuters says.
Slam Dunk? Not Quite
Although analysts are predicting big growth in the wearables market, some bumpiness is already apparent. Wearable webcam maker
Contour shut down in August
, for example, then was reincarnated after a private equity firm pumped money into it. It's since relaunched its website and even
had a booth at CES
this week. And as Reuters notes, some developers are still skeptical of the wearables market because devices have a limited battery life, their prices are high and there are concerns over privacy.