[caption id="attachment_12544" align="aligncenter" width="618"]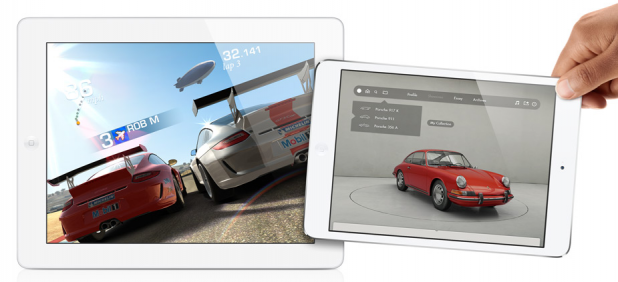 Apple's iPads continue to sell well, but the company still needs to break into new markets.[/caption]
Apple's released its latest iPhones
, which means the tech press can (and will, if only for the massive amounts of page-views) shift its attention to the company's next products. As a company, Apple is well aware that it can't maintain its business on annual iPad and iPhone updates; while that strategy might have worked a few years ago, Google Android is now a more sophisticated opponent, and rival manufacturers such as Samsung and Amazon have demonstrated that they can sell millions of devices on the open market. Simply put, Apple doesn't have an unimpeded run of the tablet and smartphone space; and if it wants to keep delivering the margins and profits that Wall Street expects, the company will need to look toward greener pastures. But where, O where, do those greener pastures lie? If the rumors of the past few quarters are any indication, they're in the direction of television sets, gaming, and wearable electronics.
The iWatch
Over the summer, Apple hired former Yves Saint Laurent CEO Paul Deneve to work on unspecified "special projects." Deneve was an Apple employee once before, in the mid-1990s, before drifting into
haute couture
. His return heightened the longstanding rumors of Apple's imminent entry into the wearable electronics market, although his exact role remains unclear, especially since Jony Ive exerts an enormous amount of control over Apple aesthetics and design. Deneve wasn't Apple's only wearable-electronics hire: the company has also
snatched up Jay Blahnik
, who helped develop Nike's FuelBand fitness bracelet, along with a
handful of other engineers and employees
. By this point, it's clear that Apple's working on
something
a person can strap to their person, and rumors indicate that it's a timepiece running some variant of iOS, or "iWatch." Other manufacturers are reportedly hard at work on their own smart-watches, and Samsung has already released the
Galaxy Gear
, but the segment is ripe for exploitation in the same way as the smartphone market before Apple rolled out the iPhone. The iWatch's possible features remain a matter of conjecture, along with a release date.
Apple Television
Apple already sells a set-top box for streaming services such as Netflix directly to the viewer's television. But rumors have persisted for quite some time that the company is also hard at work on an actual television. Apple co-founder Steve Jobs himself stoked these rumors by telling biographer Walter Isaacson that he'd finally managed to figure out an interface that would allow people to cycle through viewing options in a streamlined way. Despite the relentless chattering of analysts about the hardware's possible features, however, an actual Apple television has yet to make an appearance—something that could change in 2014.
Gaming
Third-party manufacturers are already churning out
game controllers for iOS 7
, and it's certainly possible that Apple could make an Apple Television—or even the next version of its Apple TV box—a gaming hub along the lines of PlayStation or Xbox. Given the numerous games available for iOS devices (with a plethora of third-party developers churning out more by the week, including some high-end titles like the recent
X-Com: Enemy Unknown
), Apple is already a force to be reckoned with in the gaming space, a position it may want to expand upon over the next few years.
Image: Apple