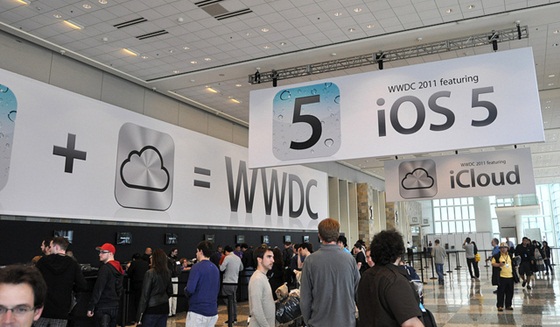 Apple's Worldwide Developer Conference 2011 came and went yesterday, announcing the expected OS X Lion, iOS 5 and iCloud. There was a big applause when Steve Jobs said "one more thing," but he was quick to assure his audience that it's just a small thing, and he's right. The "one more thing" was reserved for iTunes Match -- and there's
no sight of any new iPhones
(heck, not even
a new home screen
). There's nothing revolutionizing in iOS 5 -- it mainly addresses complaints, like the infamous pop-up notifications, adding several features that other mobile OS had implemented earlier, and streamlining the OS to result in an even more intuitive experience. The notification system of earlier versions is regarded by many as intrusive. It pops up a message whenever there's a notification, interrupting whatever you're doing. There's no way to review past notifications either -- so it's wise to read whatever it's telling you before dismissing the message. It's a shame for a company that prioritizes user experience to fall so far behind Android in that department, or even underdog WebOS for that matter. Not anymore with iOS 5.
Revamped Notification System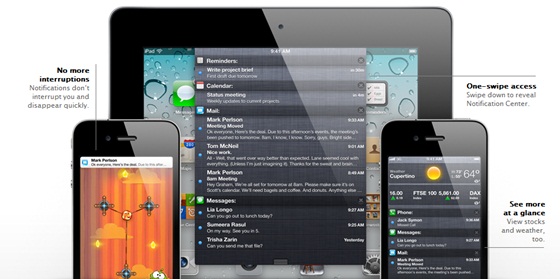 New notifications now slide down from the top of the screen, taking minimal real estate and disappearing quickly. You can continue doing whatever you're doing. And, sliding your finger from the top of the screen will summon the new Notification Center. There, you can review your past notifications -- and even check the weather and stocks. Notifications will also be listed on the lock screen. Sliding the app icons on the lock screen will bring you right to the app.
iMessages (iOS to iOS Messenger)
In my part of the world, the number of youngsters using BlackBerry is quite significant. They couldn't care less about e-mails. The only reason? BBM. It still puzzles me why they're so obsessed with BBM, which works only on BlackBerry devices, when apps like Whatsapp support virtually all smartphone platforms. The only conclusion I can draw -- they want it out of box, without installing any apps. With iOS 5, Apple is offering a service similar to BBM -- iMessages. It's almost identical to Whatsapp, with the ability to send text messages, photos, videos, locations and contacts. Group messaging is also supported. The only catch? It's an iOS-only messenger. But it's built-in, and it works out of box, if that is what young BlackBerry users fancy.
Deep Twitter Integration
With iOS 5, users can now tweet from Safari, Photos, Camera, YouTube, or Maps. Third-party apps will also be supported if the developer chooses to utilize the new API. With the single sign-on feature, users are only required to sign into their Twitter account once in the Settings. Previously, with the official Facebook app, users could pull photos or avatars for matching names in their contact list. The same can now be done with Twitter in iOS 5.
And other goodies...
Newsstand to house all your magazine and newspaper app subscriptions. A new app store category for magazine and newspaper subscriptions, it can be accessed from Newsstand and automatically download new issues as they become available.
Reminders app is built in. Supports location and syncs with iCal, Outlook and iCloud.
Camera app can now be accessed right from the lock screen, without requiring a pass code. New features: grid lines, pinch-to-zoom and single-tap focus and exposure locks. Volume up button now acts as a shutter button.
Photos app can now perform basic photo editing (crop, rotate, enhance, and remove red-eye). Organize photos in albums right from the device.
Activate your newly purchased iPhone or iPad without the need of a computer. They can now be set up on the device itself. OS updates will be delivered over-the-air.
Mail app now supports basic formatting (bold, italic, underline, indent). Drag to rearrange names in address fields. Flag e-mails. Create & delete mail folders.
Calendar app supports year view on iPad and week view on iPhone/iPod touch. Tap to add events. Drag events to change time or duration.
Game Center supports avatar, suggests new friends and new games.
Wi-Fi Sync your iOS device to your iTunes on Mac or PC wirelessly.
iPad now supports more gestures and AirPlay mirroring on TV (iPad 2 only).
iOS 5 will be available to end users this fall, and it supports iPhone 3GS (yay!), iPhone 4, iPod touch 3rd & 4th generation, iPad and iPad 2. [youtube http://www.youtube.com/watch?v=LLJIef-e-7g&w=560&h=345] Source:
Apple