[caption id="attachment_11063" align="aligncenter" width="618"]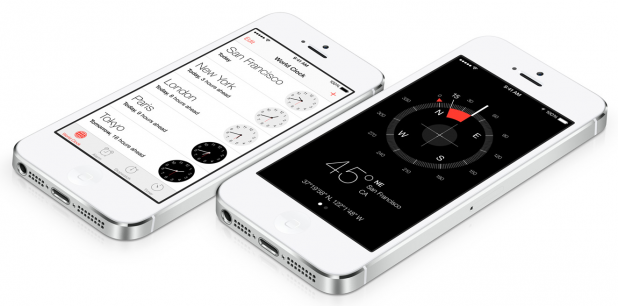 Whatever mobile devices Apple produces in the next year, they'll almost certainly run iOS 7.[/caption] Apple has yet to debut a major product in 2013, something that has investors and company-watchers more than a little perplexed and nervous. In lieu of Apple CEO Tim Cook taking to a stage to whip the curtain back from a new device, these outside groups have chattered mightily over what might be in the pipeline—an "iWatch" timepiece, perhaps, or maybe even the long-rumored Apple TV. Many sources seem to agree that a line of cheaper iPhones is in the making.
Apple-centric blog MacRumors
recently posted some hypothetical mockups of those lower-cost iPhones, which will reportedly come in bright colors and feature the company's flagship iOS 7. If all these rumors prove correct, the "cheap" iPhone line could arrive alongside a new, top-of-the-line iPhone (already dubbed "iPhone 5S" by the media). But what would be the point of a cheaper device? Apple already offers older iPhone versions at reduced cost. For example, the iPhone 4S sells for $99, while the iPhone 4 comes for the low, low price of free—provided the buyer is willing to sign a two-year service contract with a carrier. That strategy seems perfect for Apple—it can continue to dominate the higher end of the smartphone market with the latest iPhone, and snatch up a portion of the bargain-hunter and midrange market, without fragmenting its mobile portfolio by introducing too many devices at too many price points. The key here is emerging markets such as China, filled to the brim with potential customers who probably don't have the cash to splurge on a higher-end smartphone, and where deals on older iPhone generations may not exist. A cheaper iPhone could help win those markets, and would complement the evolving nature of Apple's product portfolio, where "hero" devices are paired with slightly cheaper "mini" editions (think the iPad Mini paired up with the iPad, or the iPod Nano joining the rest of the iPod line). It would also allow Apple to more effectively counter the other smartphone manufacturers that have flooded these nascent markets with cheaper devices. There's just one catch: a cut-rate iPhone may end up dragging down Apple's enviable margins. That would force Apple to sell tons of "iPhone Minis" to emerging markets in order to maintain or exceed the metrics that govern Wall Street's mood (and thus Apple's stock price). Given Apple's reputation, it wouldn't be hard to sell a lot of devices—but it would face a lot of well-established competition in those countries from Google Android and other smartphone operating systems, which could greatly complicate things. A cheap iPhone could also undermine perceptions of Apple as an affordable-luxury brand, unless the company's execution manages to hit the elusive sweet spot of cheaper hardware, enviable design, and incredible features (all while allowing Apple to maintain its margins, remember). Apple's capable of such feats—but nothing's guaranteed.
Image: Apple