[caption id="attachment_17178" align="aligncenter" width="607"]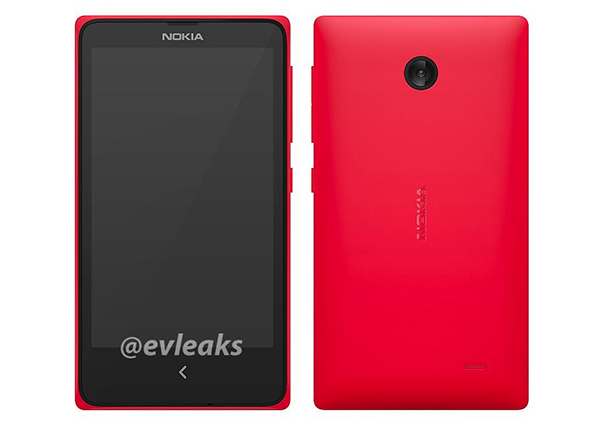 A leaked image of the so-called "Normandy" device, courtesy of @evleaks.[/caption] Nokia plans on unveiling a Google Android smartphone this month,
according to The Wall Street Journal
, which cited anonymous sources "familiar with the matter." The
Journal
added that the device was already under development when Microsoft acquired Nokia in September 2013. Rumors of the phone (reportedly codenamed "Normandy") have circulated for months. Sources have told various publications that the version of Android running on the Nokia device is "forked" and highly customized, with integrated Microsoft services and an interface that bears a heavy resemblance to Windows Phone.
According to The Verge
, the phone will target the lower end of the market, with comparatively weaker hardware specs to match. Nokia isn't the only company playing around with a forked version of Android. Amazon famously modified Google's software for its line of Kindle Fire tablets, basically transforming them into ultra-portable vending machines for the retailer's e-books and streaming-media services. If Nokia/Microsoft moves forward with "Normandy," it's safe to assume that the resulting device will link to the Windows Phone Store and other Microsoft product portals, and not to the Google Play app store and various Google services (such as Google Now). Nokia (reportedly) producing an Android phone raises the inevitable question: Why is a Microsoft subsidiary even toying around with a rival's operating system? Nokia already makes cheap Windows Phone devices, and introducing an Android device into the mix raises the dreaded specter of brand confusion—or even that customers will stay with the Nokia brand but abandon their Windows Phone devices for the Android variant. Creating an Android device made sense when Nokia was still a separate company—if nothing else, it would have served as an alternative if Nokia's licensing deals for Windows Phone somehow melted down—but it's just confusing now that the Finnish phone-maker's absorbed into the Microsoft mother-ship. But this wouldn't be the first time that Nokia's launched a Dead on Arrival device. For example, it produced the MeeGo-loaded N9 even after then-CEO Stephen Elop announced the company would back Windows Phone. It's possible that "Normandy," like the N9, isn't the vanguard of some new and twisty strategy, but an artifact of an outdated product initiative, heaved like day-old dead fish onto shelves as a result of corporate apathy. Even so, what if "Normandy" becomes an unexpected hit?
Image: @evleaks