[caption id="attachment_15080" align="aligncenter" width="618"]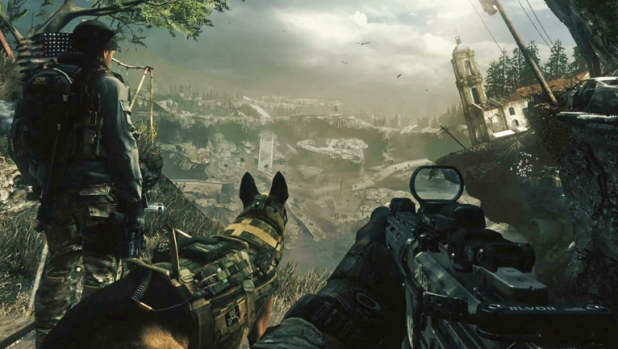 "Call of Duty: Ghosts."[/caption] Microsoft's Xbox One and Sony's PlayStation 4 are officially in a dead heat: both consoles have sold 2 million units since their respective release dates, and consumers generally seem happy about the hardware. Despite a successful launch, however, it's far too soon for either company to declare success—much less overwhelming victory—in the console wars. Both the Xbox One and PlayStation 4 were going to perform well during the holiday season. Microsoft and Sony poured in far too many marketing dollars for their respective consoles to be anything
but
a success in that crucial shopping period. Now comes the real test: how the consoles will perform over the long term, in the face of significant competition not only from other gaming platforms (Valve's rising Steam OS, Nintendo's various devices) but also games on mobile devices such as tablets and smartphones.
In a new interview with Fortune
, departing Microsoft CEO Steve Ballmer took credit for launching the Xbox back in 2001. "I believe in accountability. I'm in," he said. "I'm accountable. I'll make this work—not that I had to drive it—but we had some bumps on the road." But success in establishing a viable gaming platform came at a considerable cost—billions of dollars spent over the past twelve years, including a billion-dollar write-off on the console's second generation—and it remains unclear whether the Xbox One can finally elevate the platform from gaming system to living-room entertainment hub, pulling in families who want to watch movies and use apps in addition playing games. If Xbox One fails to become a breakout hit, it could harm Microsoft's quest to build lines of business beyond Windows and Office; and if the franchise continues to bleed massive amounts of cash, there's also the possibility that the company's next CEO could spin off or kill the initiative altogether. For Sony, the pressures are no less intense. Under new CEO Kazuo Hirai, the company's struggled to spark a robust turnaround, with its image as a technology innovator in serious question. A highly successful PlayStation 4 would help Sony reclaim the initiative on that front, while fattening its depleted coffers. But success hinges on convincing hardcore gamers—which Sony is targeting with this release—that a PlayStation 4 can meet their needs better than an Xbox One or other console. Post-holidays, Sony and Microsoft will face competition from Nintendo, Valve's Steam gaming platform (65 million active user accounts and rising), and dozens of third-party developers creating games for Google Android and Apple's iOS. There's also the possibility that Apple and Google will push harder into gaming over the next few years, issuing controllers and other hardware that turn their respective platforms more console-like. And let's not forget the significant numbers of gamers who still prefer to blast aliens or solve puzzles on their laptops and desktops instead of a console. (Who knows how many sales
might end up stolen by emulators
.) Can Sony and Microsoft sustain their momentum in the face of all that competition? That's the multi-billion-dollar question. The holidays are important to both companies' quarterly revenues, but it's the next five years that will truly determine the success of the Xbox One and PlayStation 4.
Image: Activision/Infinity Ward