IT women seeking to climb the corporate ladder need to take credit for their achievements rather than wait for their accomplishments to be recognized by management.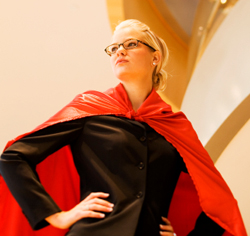 That was one snippet of career advice offered by Ingrid Devin, EMEA diversity manager for Dell, during her talk to more than 200 women from Microsoft, Google, Nortel, Intel, IBM, HP and Cisco at the Connecting Women in IT conference. Devin's speech was discussed by Ian Grant on ComputerWeekly.com. The highlights:
Working hard is not enough. Women have to put themselves about a bit more, and tell people what they've done," Devin said.
Women are not always comfortable boasting about their achievements, so they need to acquire the skills and learn to pat themselves on the back every now and then. Practice these techniques to receive the recognition you deserve, without being pompous.
Keep track: Be sure to keep a list of your achievements, so you can mention them to your boss when the time is right and include them in your resume and bio.
Choose the right time and place: Performance reviews and private meetings are the perfect time to remind your boss about your achievements. Don't take credit for your success during department meetings, unless you acknowledge the entire team; and always recognize the contributions of others, if your boss complements you in front of your peers.
Be visible: Don't hunker down in your cubicle and wait for recognition, because someone else may grab the glory for your hard work. Frequently update your boss about the status of projects, so he will associate your individual achievements with the project's overall success.
Reciprocate: Female techies should stick together, by recognizing each other's accomplishments. Frequent compliments will help you become comfortable with praise and teach you how to respond appropriately.
IT may still be a guy's domain, but by emulating their knack for taking credit for their achievements, female techies can level the playing field and compete for promotions.
-- Leslie Stevens-Huffman