Skills
Analyst
Project
Software
Engineers
Business Analyst
SQL
Management
IT
Job Description
Job Description
Product Analyst
Salt Lake County - Hybrid
Direct Hire
Salary: $68-$80K/year
Position Summary
As a Product Analyst, candidates will be responsible for gathering information, partnering with Stakeholders, and using tools for documentation within multiple facets of the organization. Being an integral part of Product Team, Analysts will partner with Stakeholders in order to use the information gathered in order to identify problems and provide solutions to Project Managers and Software Engineers as an integral part of the team. This is an ideal role for those working as an experienced Business Analyst or Junior Product Owner wanting mentorship, to continue developing their skillset, and grow their career hands on and alongside seasoned Product Managers in a professional setting.
Requirements:
2+ years as a Product Owner -or- 5+ years BA experience
Customer Journeys/Product Journeys
User Stories
Acceptance Criteria
Understanding of Databases
BONUS SKILLS/EDUCATIONAL LEVEL:
Writing Use Cases
SQL
Stakeholder Management
Experience Partnering with Software Engineers
Be a part of the ConsultNet difference. As a leading national provider of IT staffing and solutions, ConsultNet delivers exceptional services to startup, midmarket and Fortune 1000 companies across North America. Since 1996, we've partnered with clients to create rewarding opportunities for our consultants, successfully building teams that have surefire results.
In the past two years alone, we have placed more than 1,500 consultants in contract, contract-to-hire, or direct placement opportunities. We understand communication is key to finding the right job that matches your skills and career goals. For us, it's not just the work that we do; it's how we do the work. Our breadth of offerings extends to multiple IT positions in major markets throughout the country, see more at -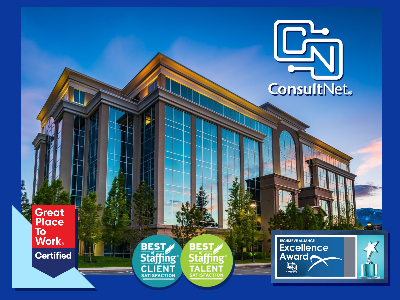 Connect with ConsultNet, LLC