Skills
Data Architecture Lead
Data Architect
ETL
BI/DW
P&C Insurance
Data Warehousing
Kimball
Inmon
Data Model
Data Base Schemas
ERWin
ER/Studio
SQL Server
DB2
DDL
RDBMS
Guidewire
SAP FS-RI
SAP FS-CD
Job Description
We are seeking a Sr Data Architect to join our Data and Business Intelligence team in our Florham Park, NJ office.
The Sr. Data Architect position will work within IT to help Sompo International create an industry-leading data warehouse infrastructure that measures performance of all aspects of the company's operations. 
Responsibilities
Translates strategic requirements into a usable enterprise information architecture
Designs databases, data warehouses and multidimensional databases
Develops and maintains a formal description of the data and data structures including the data models, data flow diagrams, data dictionaries and technical metadata
Develops and implements strategies for data acquisitions, archive recovery, and implementation of a database
Defines detailed source to target mapping from source systems into the data warehouse
Oversees a small group of data analysts and architects, allocates workload and ensures quality and accuracy of their deliverables
Defines data/information architecture standards, structure, attributes and nomenclature of data elements, and applies accepted data content standards to technology projects
Collaborates with ETL team on data model, its maintenance and optimization as well as end-to-end data driven integration strategy
Monitor and guide design of a semantically rich business model of the enterprise domain, independent of any technology solution
Minimum Qualifications
10+ years of BI/DW and data architecture experience.
5 years P&C Insurance experience
5+ years' experience in data warehousing
Knowledge of Data Warehousing, BI architectures, concepts and frameworks
Deep knowledge of Kimball and Inmon approaches and the core differences
Extensive experience in data modeling principles/methods including conceptual, logical & physical Data Models.
Capable of facilitating data discovery sessions involving business subject matter experts.
Strong interpersonal skills and ability to work as part of a team
Experience in translating/mapping relational data models into Data Base Schemas.
Experience with modeling tools (such as ERWin and ER/Studio)
Knowledge of RDBMS platforms (e.g. SQL Server, DB2) with experience in generating DDL
Ability to create and maintain conceptual/business, logical and physical data models.
Ability to translate a logical model into a physical model, adding appropriate physical objects needed to create the database e.g. indexes.
Experience maintaining a model repository
Ability to synchronize models to ensure that database structures match models
Familiar with metadata ingestion and translation
Preferred Qualifications
Knowledge of the P&C insurance business and systems such as Guidewire Policy Center, Guidewire Claims Center, SAP FS-RI & SAP FS-CD is strongly preferred
Education
BS in Computer Science, Information Management or Statistics
At Sompo International, we recognize that the talent, skills, and commitment of our employees drive our success. This is why we offer competitive, high-quality compensation and benefit programs to eligible employees.
Our compensation program is built on a foundation that promotes a pay-for-performance culture, resulting in higher incentive awards, on average, when the Company does well and lower incentive awards when the Company underperforms.  The total compensation opportunity for all regular, full-time employees is a combination of base salary and incentives that gets adjusted upfront based on overall Company performance with final awards based on individual performance.
We continuously evaluate and update our benefit programs to ensure that our plans remain competitive and meet the needs of our employees and their dependents.  Below is a summary of our current comprehensive U.S. benefit programs:
Two medical plans to choose from, including a Traditional PPO & a Consumer Driven Health Plan with a Health Savings account providing a competitive employer contribution.
Pharmacy benefits with mail order options.
Dental benefits including orthodontia benefits for adults and children.
Vision benefits.
Health Care & Dependent Care Flexible Spending Accounts.
Company-paid Life & AD&D benefits, including the option to purchase Supplemental life coverage for employee, spouse & children.
Company-paid Disability benefits with very competitive salary continuation payments.
401(k) Retirement Savings Plan with competitive employer contributions.
Competitive paid-time-off programs, including company-paid holidays.
Competitive Parental Leave Benefits & Adoption Assistance program
Employee Assistance Program
Tax-Free Commuter Benefit
Tuition Reimbursement & Professional Qualification benefits.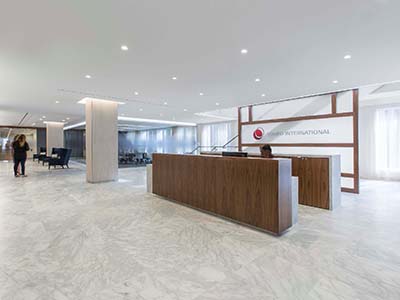 Connect with Sompo International