Skills
IT
Systems
Engineering
Linux
IIS
Apache
SDLC
Unix
Windows
Docker
Kubernetes
Job Description
Job Description
IT Systems Administrator
Poway, CA
Type Contract to Hire
On-site
$55/hour
$115,000/year upon conversion
In this role, we are looking for someone who can be both a textbook Systems Admin, but also one who can push boundaries to find clever solutions and manageable workarounds with the primary goal of moving business forward and taking advantage of technology to do so. We need someone to collaborate with Engineering and IT Ops to establish IT systems while automating and streamlining processes on the operational side.
Working under IT Operations leaders, you will offer SME level technical 'know how' in a Microsoft/Linux Server environment, lead installs, operation and maintenance of workstations and applications.
Primary Role and Responsibilities:
Maintain a 99.99% uptime by supporting a commercial internet product line, web app hosting, network infrastructure, business application, systems integration, and disaster recovery.
Lead the installation of hardware & software updates, changes, and enhancements to ensure a cost-effective, efficient, and continuous IT service.
Actively/Pro-Actively resolve inquiries, issues, complaints, and emergencies affecting availability or QOS. Respond to sensitive/complex inquiries and complaints with professionalism and care.
Manage and interface with third party tech support and support vendors. Stay current on industry trends and advise management on technologies that should be adopted to ensure that we are operating at peak efficiency.
Required Skills:
Experience in Microsoft IIS and Apache web servers in a commercial hosting environment. Jetty web sockets is a plus.
Elite problem-solving skills with the a bility to find resolutions in a creative manner.
High level communication, teamwork, and interpersonal/organizational skills.
Ability to work and thrive in dynamic work environment.
Always trying to improve mindset
Understanding and experience supporting the SDLC.
Hands on experience with automated deployment and build tools.
Ability to remain calm during systems failures and the ability to persevere and find a resolution.
Experience and Educational Requirements:
Bachelor's degree in Tech and/or 5 years comparable experience in a similar admin capacity.
Deep knowledge of networks, servers, cyber security, and telecommunication systems.
Experience in automation, able to write scripts for daily tasks.

Unix/Linux and Windows scripting.
Core scripting languages with history of task automation
Unix Shell Procedural languages
Strong experience with clustering and blade server technologies.
Virtualization experience: Hyper-V, VMWare, Docker, Kubernetes, Cloud technology, Nutanix or HCI.
SAN and NAS experience
Advanced knowledge of personal computer hardware, OS, and peripherals.
Be a part of the ConsultNet difference. As a leading national provider of IT staffing and solutions, ConsultNet delivers exceptional services to startup, midmarket and Fortune 1000 companies across North America. Since 1996, we've partnered with clients to create rewarding opportunities for our consultants, successfully building teams that have surefire results.
In the past two years alone, we have placed more than 1,500 consultants in contract, contract-to-hire, or direct placement opportunities. We understand communication is key to finding the right job that matches your skills and career goals. For us, it's not just the work that we do; it's how we do the work. Our breadth of offerings extends to multiple IT positions in major markets throughout the country, see more at -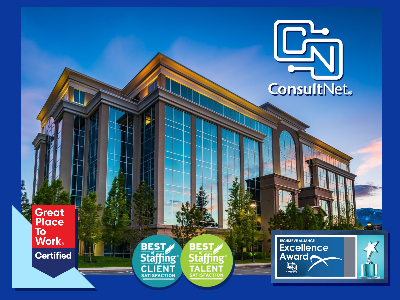 Connect with ConsultNet, LLC