Skills
core java
oops
bpmn
camunda
rest
soap
Job Description
Description:
We are looking for a Java Developer / Lead / Architect for a long term assignment with us located in St. Louis, MO. The candidate will participate in all aspects of the SDLC life cycle including implementation and deployment. This hands-on technical role requires strong object-oriented and system design skills along with good experience in Camunda or any BPMN tool experience.
Required:
Camunda Rules and BPM Process - developer with Java development background
Knowledge of BPM Lifecycle
Model business processes using Events, Gateways and Tasks
Model business logic using DMN
Model business logic using DRDs
Deploy a process model to the Camunda Platform
Develop and enhance process flows using Camunda (BPM tool).
Experience with integrating and developing REST services.
Experience in creating Workflows, Message events, User Forms, and Gateways using Camunda BPM.
Collaborate with related teams to ensure architectural and standards alignment and follow the best practices of BPMN 2.0 Standards.
Develop and enhance Workflows with new strategies for each business use case.
Utilize Agile tools and methodologies.
Enrich process models with executable business logic
Work with processes using the REST API
Work with processes using the Java API
Experience integrating with services developed on Spring Boot.
Test processes using JUnit
Add Human Tasks and Forms to a process model
Describe the transactional behavior of the Process Engine and manage transactions
Describe the options available when deploying the Camunda Platform
Develop on the Camunda Platform using Spring, Spring Boot and External Task Workers
Handle expected events in business processes
Handle errors and unexpected events in business processes
Cross team collaboration to integrate services from various IT teams into business process flow.
Communicate the business value of technical solutions.
Delivery of assigned tasks within the scheduled time to a high quality.
Actively involved in BPM life cycle including rule project design, orchestration of rule flows, verbalization, rule authoring, testing, debugging, and deploying on Servers.
Provide advice and technical expertise to ensure successful deployment of Workflows onto Cloud Cluster
Experiences working with multiple Clusters, brokers.
Manage standards and implement quality control across processes, services, reporting and customer engagement.
Provide multiple Proof of Concepts (POC's) to align with customer requirements.
Analyzing the current test strategies and suggesting the team with new scenarios to be covered such a way that individual workflows can be tested alone.
Act as the Subject Matter Expert of Business Process Management in liaison with other technology groups.
Assist in providing inputs for creation of architectural diagrams for complex systems design of current and future projects.
Help in creating necessary project documentation.
Identifying the common process code used across workflows.
Address existing infrastructure gaps between deployments and standards, suggest and drive appropriate deployment strategies to minimize risk of business service outage in BPM related projects.
Work with relational databases (Oracle).
Worked with message broker Kafka to receive and send JSON objects.
Work with data transformation frameworks and technologies, including XML and JSON.
Review documents and conduct meetings to understand business needs, technical, and application framework.
Delivery responsibility and accountable for the work agreed upon on behalf of the team.
Work with team members, QA, and release management to develop, test, and deploy software in test and production environments.
Own and run the governance and ensure quality of product delivered and bring consistency in how work is done
Good knowledge of Agile methodology and experience working on agile projects.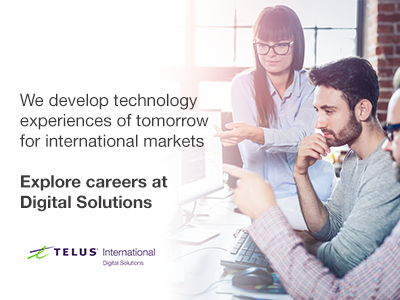 Connect with Telus International